With the 2018 Farm Bill legalizing the medical and recreational use of cannabis across a number of states, the CBD skincare industry has emerged as one of the fastest growing industries in recent years. And CBD's popularity isn't just growing in the United States. According to a recently published report by Grand View Research, the CBD skincare market is expected to expand at a CAGR of 32.9% between 2019 and 2025.
One of the primary reasons behind the widespread popularity of CBD skincare products are their ability to fight inflammations and breakouts. Moreover, in addition to having anti-inflammatory properties, this magic cannabinoid is also a potent antioxidant.
Over the course of this blog post, we'll take look at some of the potential benefits of adding CBD-based products to your skincare routine.
Can Potentially Reduce Signs of Aging
As we age, our skin starts to show sign of aging, like wrinkles and dullness. CBD can help ensure that you skin remains healthy and hydrated. Hemp-derived CBD oil contains fatty acid, Omega 3 and Omega 6, which prevent loss and boost collagen production. This keeps your skin hydrated and looking good.
Can Help With Psoriasis
An autoimmune condition that affects around 8 million Americans, psoriasis is characterized by red spots and patches of scaly skin. Psoriasis attacks healthy skin cells, causing them to multiply abnormally and die out quicker. This results in inflammation which can be quite painful.
This is where CBD comes in. It directly impacts the body's endocannabinoid system – a mechanism that's responsible for regulating the immune system and messages that are relayed in the body, such as pain and mood. Also, like we've mentioned above, CBD also has anti-inflammatory properties, which can help in reducing the pain associated with Psoriasis.
A Potential Cure for Acne
A common skin condition, acne occurs when the pores of the skin get clogged by accumulation of excess oil, dead skin cells, dirt, and impurities. This causes the bacteria living in the hair follicles to multiply, which ultimately leads to acne. There's scientific evidence which suggests that the anti-inflammatory properties of CBD can potentially reduce the effects of skin ailments, such as acne. CBD-infused skin care products target the cells that trigger acne, thereby lessening its impact on acne-prone skin.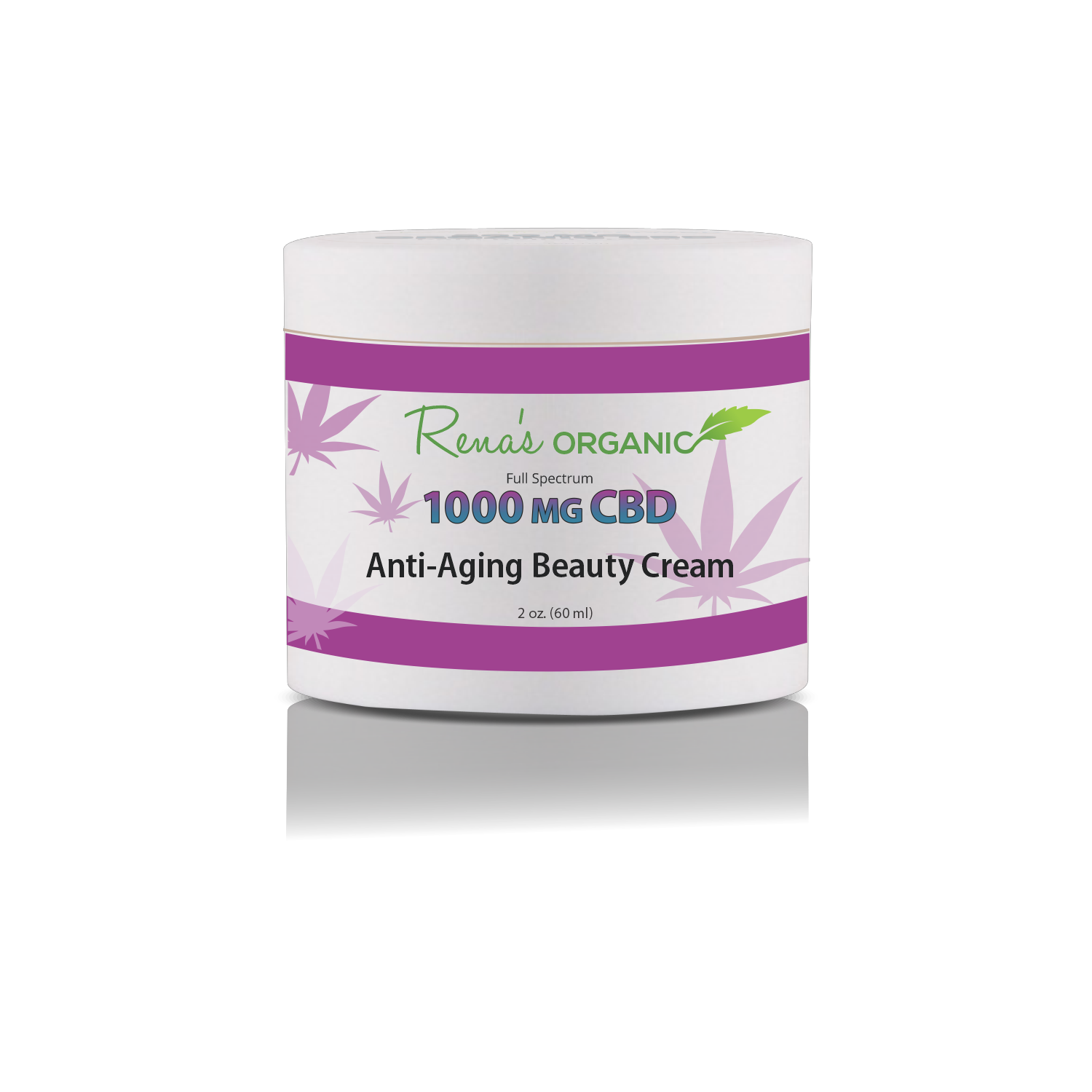 Rena's Organic provides full spectrum and organic CBD tinctures that consist of pure CBD and are free of any fillers. We also have CBD anti-aging beauty cream available. Call us at 800-848-2822 to learn more about our organic products!
FAQ
What does CBD cream do to your body?
Well, it moisturizes your skin because of the cannabidiol that's naturally occurring in cannabis. It also helps relieve anxiety and inflammation. I use CBD cream every time after my shower to help me relax and feel less anxious about things
What are the CBD Cream benefits?
The benefits of using the CBD cream include: Relieving Muscle and joint discomfort, Reducing anxiety, Healing scars, Relieving acne, Promoting cell growth, Moisturizes/soothing skin.
How long does it take for CBD pain cream to work?
The CBD Cream takes about 5-10 minutes to kick in and it lasts for hours.
Where can I buy CBD Cream?
You can order high-quality CBD Cream online at Rena's Organic CBD Store. You can choose different CBD Creams and other CBD Products for Sale. Order now!