It was one week into my Grand Opening Sale. I picked up the phone and heard a mature, gruffy male voice on the other end of the phone line . . . "Is this Rena?" He asked, in a low, unenthusiastic tone. "Yes," I answered.
"This is William Bumgarner," He continued flatly. "I bought your 500 mg. pain cream about a week ago." I remembered William, as I had personally taken his order.
As my new Arizona based customer continued, I broke out in a huge smile, joy filling my heart.
"I want 6 more bottles."
"Six more?" I repeated, to be sure I heard him correctly.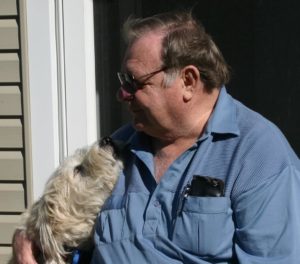 "Yes!" William went on. Though his tone didn't change, the words he spoke reflected his gratitude, "No pain cream has ever worked better, and so fast!" William reported.
"My knee pain is so severe that I take a Hydrocodone pill, typically every 8 hours. This time, I didn't need it for 17 hours, after I applied your 500 mg. CBD pain cream just one time."
"That's why I want 6 more bottles. I figured if I use more, I'll get an even better result. Plus, now my wife's cousin wants some.
I've used your CBD cream three times. It took the pain right away. I have crippling arthritis in my knees. I have tried everything. I've been to a pain clinic where they use a big needle to burn the nerve ends. It didn't work and it hurt like hell."
"I've tried injections but that didn't work. This CBD pain cream is amazing. It's the first thing that worked. 90% of my pain was gone after putting in on only three times."
Thank you so much, William, for allowing me to share your words publicly and for sending your picture right over. I am SO happy to know about your amazing results. . . . Six more jars of Rena's Organic 500 mg. Pain Relief Cream are on their way to you . . .
Warmly,
Rena