What is a Migraine?
According to the American Migraine Foundation, a migraine headache is defined by a minimum of 5 headaches, with no apparent cause of onset, that last between 4 – 72 hours, associated with light and sound sensitivity. Some migraine sufferers report nausea, vomiting and pain. These headaches are debilitating and have a profound negative impact on people's lives. Approximately 10% of the population is affected.
Can CBD help migraine symptoms? If so, how?
Some research is indicating that what's known as Endo-cannabinoid Deficiency Syndrome may be a cause for many ailments, including migraine headaches. The treatment could be incorporating CBD into your diet or applying topically.
A study reported by the European Academy of Neurology Congress stated that CBD and other cannabinoids were effective in reducing discomfort suffered by migraine patients, by over 40%.
The Journal of Pharmacology and Experimental Therapeutics reported that CBD has been demonstrated to be effective in assisting with headache related conditions, such as anxiety.
TRPV1 receptors is a protein whose function is to provide pain sensations and to detect noxious stimuli in the environment. CBD has been shown to play an analgesic role that is associated with the TRPV1 receptors, thus lessening the sensation of pain in migraines.
Additionally, since CBD is a 5HT1a receptor agonist, meaning that it stimulates the same receptors as serotonin (to enhance mood and positive feelings), it has been shown to possibly be very helpful in reducing or eliminating headache symptoms.
It's been reported that CBD taken regularly can be most effective for preventing headaches and migraines.
What kind of CBD products can be used to relieve migraine
symptoms?
The American Migraine Foundation reported that migraine patients who suffer from joint and muscle pain can use CBD topicals and/or CBD oil, sublingually, for relief.
We have found that 1000 mg. Full Spectrum CBD Pain Relief Cream is best and that is what the story in First for Women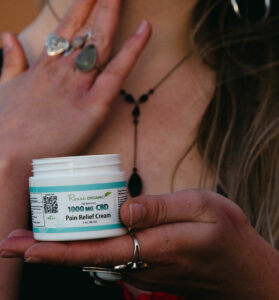 Magazine focused on—how using 1000 mg. CBD Pain Relief Cream eliminated one woman's migraine pain completely.
How to Take CBD for Migraines
The best way to take CBD for migraine headaches is to ingest it orally. Some people like to also use topicals, as they can provide some localized relief, especially if the pain is originating in the neck or temple areas. To assist in preventing headaches, it's best to ingest the CBD orally, daily.
Dosing for Migraines
People who suffer from migraines have reported a reduction in frequency and lowering of intensity with dosages from 5-50mg. daily. It's best to start at a low dose and slowly increase as needed. Use the smallest amount of CBD needed to provide relief of symptoms. For example, you can start with just 2.5 mg. CBD (1-2 drops of 600 mg. CBD) and increase by 2.5 mg. every 48-72 hours, as needed and based on how your body responds.
Most patients find ultimate success with dosing of 20-50 mg. CBD, per day. Though it's best to start with less, some patients have much better results with increased CBD dosing. Everybody is different. Monitor your progress by writing down your symptoms and the benefits you experience when you ingest CBD.
Are there any short-term or long-term risks to using CBD for migraines?
According to the Food and Drug Administration, the following side effects are possible when ingesting CBD:
Diarrhea or decreased appetite
Mood changes, such as irritability or agitation
Feeling sleepy
For some people, CBD can have a stimulating effect. It can be helpful to stop ingesting CBD several hours before bedtime, in those cases.
The FDA also indicated that these side effects generally disappear when CBD is stopped or when the dose is lowered.
The good news is that there have been zero reports of anyone overdosing on Cannabis or CBD. That's because neither THC nor CBD causes suppression of the respiratory or cardiac systems. This is a wonderful distinction from both alcohol and narcotics, both of which can lead to death.
The International Journal of Molecular Sciences states, "Cannabidiol has been reported to have low toxicity, is generally well tolerated, and has a good safety profile."
According to many studies, CBD has been found to be safe and well-tolerated.
How can a person know whether they could or should use CBD products for migraines?
The first course of action when dealing with migraines, is to look at the obvious. What makes the headaches worse? Are there any triggers that you can identify, such as certain foods, stress, exercise, lack of sleep, caffeine, medications, head or neck trauma or alcohol? If you can identify any of these factors, you are moving in the right direction.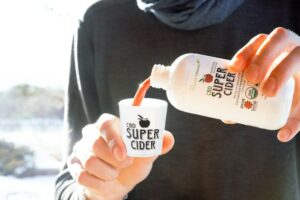 If you can pinpoint a root cause, that information can prove to be very helpful. For example, if the headaches are precipitated by pain medication, increased stress, your menstrual cycle, or a lack of sleep, CBD has been shown to be helpful in all these instances.
However, the frustrating reality is that often the cause of migraine headaches is near impossible to track. Since CBD has been found to be relatively harmless with minimal side effects and no major risks, many migraine sufferers are willing to try taking CBD orally or applying it topically when nothing else can help them.
How can people be sure they're getting legal, regulated CBD products for migraines?
According to researchers at the University of Salerno, Italy, the main risk with CBD is the complete lack of regulation. Research published in Pharmacology & Therapeutics warns that the "patient is not assured about the quality of the product itself, the effective dosage of CBD that is fundamental for its therapeutic effectiveness, the purity and the absence of chemical or microbiological contaminations, thus raising critical public safety concerns."
In fact, the FDA has cited that when they tested the chemical content of various cannabinoid products, many were found to not contain the levels of CBD claimed on the label. Additionally, there have been reports that the FDA is investigating regarding unsafe levels of pesticides, heavy metals and other contaminants in CBD products that were on the store shelf, ready to be sold to unknowing consumers.
This is why I can't emphasize enough the importance of reviewing those certificates of analysis for your CBD products, not just for the end-product but for the master extract and bulk hemp used to manufacture the CBD you are going to ingest, and even the soil where your CBD was cultivated. These should be available on the Manufacturer's website. It's essential that you only purchase CBD from a trusted source. The certificates of analysis need to be generated from a reputable laboratory that is ISO accredited.
Rena Greenberg, Author, BIO:
From the book: CBD for Health & Wellness: Questions You Should be Asking
Rena Greenberg is a Hay House author, healthcare expert, and educator whose programs are sponsored by over 75 US hospitals and 100 major US corporations, including Disney, Home Depot, and AT&T. She has helped over 200,000 people find their journey to health.
Rena's weight loss and smoking cessation programs as well as her organic CBD line of wellness products, have been featured widely in the national press.