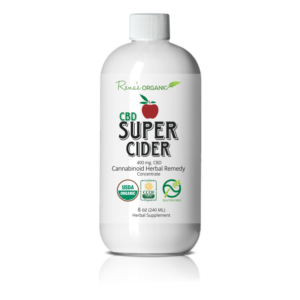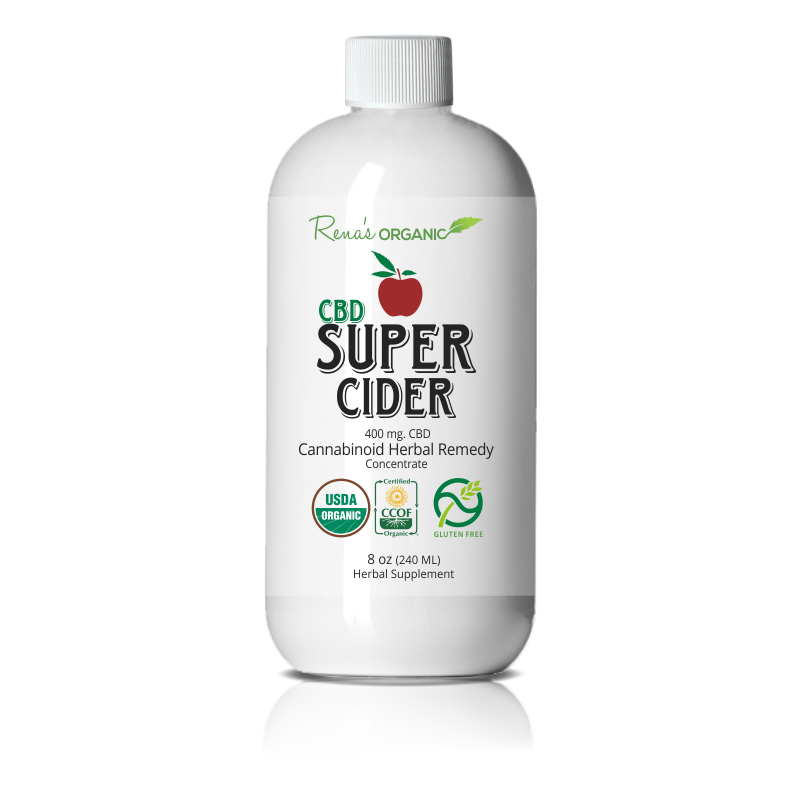 Enjoy your VIP buyer special on Rena's Organic CBD Super Cider®
Optional:
GET DUAL-ACTION PAIN RELIEF
WHEN YOU ADD 1000 MG. CBD PAIN-ERASING CREAM
Say goodbye to painful muscles and joints. Supercharge your CBD Super Cider benefits with 1,000 MG CBD Pain Relief Cream.
1 discounted jar: only $59.99 (CLAIM $70 SAVINGS INSTANTLY!)

---
CBD Super Cider and 1000 MG CBD Pain Erasing Cream are not sold in any store worldwide. Supplies are severely limited. Please act now, take advantage of these great savings, so you don't miss out! Our CBD is the highest quality available, organically harvested in the great state of Colorado, always 3rd party tested for purity.
Choose Your Package
Regular Price:

$239.85

Instant Savings: $90

$149.85

(This is a one time payment)
FREE SHIPPING
UPGRADE
TO VIP
Immediate Member Discount
Convenient Refills as Needed
Exclusive Savings
Free Membership
When you check the "Join and Save" box, you are agreeing to receive discount coupons by email each month. We have NO reoccurring billing. You will only be charged for products YOU DECIDE to buy, and order, in the future. To receive exclusive VIP coupons and savings, after using your first time buyer discount, enter your best e-mail at checkout today.
100% Money Back Happiness Guarantee
At Rena's Organic®, we strive to make sure that our products are the absolute best quality. We want you to be completely satisfied and very happy. That's why I'm delighted to give you a full 30 days to try our products. This gives you time to make sure that you are getting the wonderful results you desire. Use the products for one full month. If you are not completely happy with your results, simply return them for a 100% refund (less shipping).
See what our customers are saying. . .
Results vary from one person to another.
Frequently Asked Questions
How many bottles should I order?
Most people order 3 bottles to start with. This way you can take full advantage of the incredible savings, especially when you join our VIP Membership Club.  CBD Super Cider is one of our best sellers and a lot of our customers go ahead and order the 6-bottle package to share with friends and family.  For a limited time, you can get a free bottle of 300 MG CBD Tincture – $54.95 Value, when you order 6 bottles.
How safe is CBD Super Cider?
100% safe. All the ingredients in CBD Super Cider are organic, non-GMO, and completely natural and safe.  Each ingredient is independently analyzed and tested for purity and quality, at an independent 3rd party facility.  Scientific research confirms that CBD is completely safe and has no toxic indications even in large doses.  We believe that it's always a good idea for you to check with your doctor prior to making any changes in diet or lifestyle that may impact your health.
What are the ingredients in CBD Super Cider® ?
How much CBD Super Cider should I take?
Each person needs to find the dose that's best for them.  Though the dose on the label is listed as one tablespoon one or two times per day, because it's so potent, some people like to start out with just a teaspoon.
Most of our customers absolutely love the taste of CBD Super Cider and like to take it straight up, like a shot.  You can also mix CBD Super Cider with water, if you prefer.  The benefits add up, so it's best to take either a few teaspoons or tablespoons of this delicious herbal remedy, daily.
Does CBD Super Cider taste good?
Yes!  It's absolutely delicious. The rich taste of organic cherry concentrate, grown in the beautiful farmland of Washington State, gives CBD Super Cider it's robust flavor. The best part is that while you are enjoying the delicious, fresh, pure taste, you can rest assured knowing there are absolutely no "flavors," no toxic chemicals, no fillers, no sugar, no alcohol and no artificial or addictive sweeteners in CBD Super Cider.  CBD Super Cider is a nutritious, organic healthy Elixir, loaded with therapeutic herbs and powerful Cannabinoids.
How much CBD is in each bottle?
Each bottle of CBD Super Cider is filled with a generous 400 mg. of organic, full spectrum CBD.  Every serving (one tablespoon) contains 25 mg of Cannabidiol (CBD). In addition to the CBD, CBD Super Cider is loaded with 7 other powerful Cannabinoids, creating a synergistically powerful health-promoting formula.
How soon can I expect to see results?
Right away. Many of our customers tell us that they experience immediate results. After the very first sip of CBD Super Cider, people often say they feel better—more uplifted and energized.  The best results, however, are cumulative.
While taking CBD Super Cider daily, you may notice that you feel more rested, more creative and aches and pains may disappear. You may sleep better, have fewer food cravings, feel happier and less anxious. You may notice that you have more stamina, more vitality and sustained energy.  These are some of the many benefits our customers report.
What if it doesn't work for me?
I've had the privilege of teaching health and wellness in over 75 hospitals, for the last 30 years.  I understand that everyone's body reacts differently, even to the same ingredient.  I want you to be completely happy and that's why I am offering you a chance to try CBD Super Cider 100% risk free, with my 30-day money back guarantee.  If you are not completely happy with your results, for any reason, it's free (less the cost of shipping).  Just call our USA based customer service and we'll get that taken care of for you.
What's the difference between CBD, Cannabis and Hemp?
CBD comes from the plant Cannabis Sativa, which is the same plant family that Marijuana comes from. But there are huge differences between the two compounds.  CBD does not make you "high." Marijuana is a psycho-active substance and CBD is not.
CBD is the subject of thousands of scientific studies, because of its profound medicinal quality.  Also known as Industrial Hemp, CBD has been shown to eliminate pain, bring relief from anxiety, improve sleep, mood and energy levels and restore most systems of the body back to their natural, healthy state.
This is because CBD is a powerful Cannabinoid that works on your bodies own Endo-cannabinoid system to bring homeostasis—or balance to the body.  Its function is to increase communication between systems of the body.
Doctors everywhere are now recommending CBD to their patients. Additionally, the United States Government has taken out a patent on it due to its anti-inflammatory and anti-anxiety actions.
CBD has been found to be completely safe. It is legal to ship to all 50 states and requires no prescription.
Please do note that many products that say Hemp are not actually CBD and therefore have no medicinal Cannabinoids in them.  The term 'Hemp' can also be used for ordinary food grade hemp used to make fiber and clothing.  This can make purchasing CBD very confusing.
Since much "Hemp" that is being sold online is not "Industrial Hemp" or CBD, it's essential that you do your homework. With CBD Super Cider, you can feel assured that you are getting pure, organic, potent, Full Spectrum, authentic CBD, grown from seed to sale, in the clean State of Colorado.
Rena Greenberg
Rena Greenberg, Celebrity Health & Wellness Speaker and Coach, has been helping people lose weight and get healthy for 30 years. Since 1990, her wellness programs have been reviewed and sponsored in 75 hospitals and 100+ corporations across America, including Disney and AT&T.
She is the best selling author of the Hay House book, The Right Weigh and The Craving Cure. Her success has been featured in over 150 TV and newspaper stories including on CNN, Good Morning America, ABC-TV Nightline, The Doctors Show, FOX News, NBC TV, Woman's World Magazine and her own show on PBS.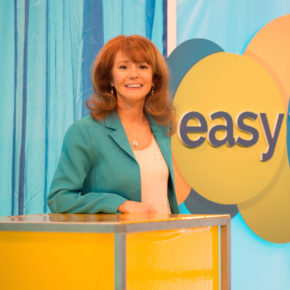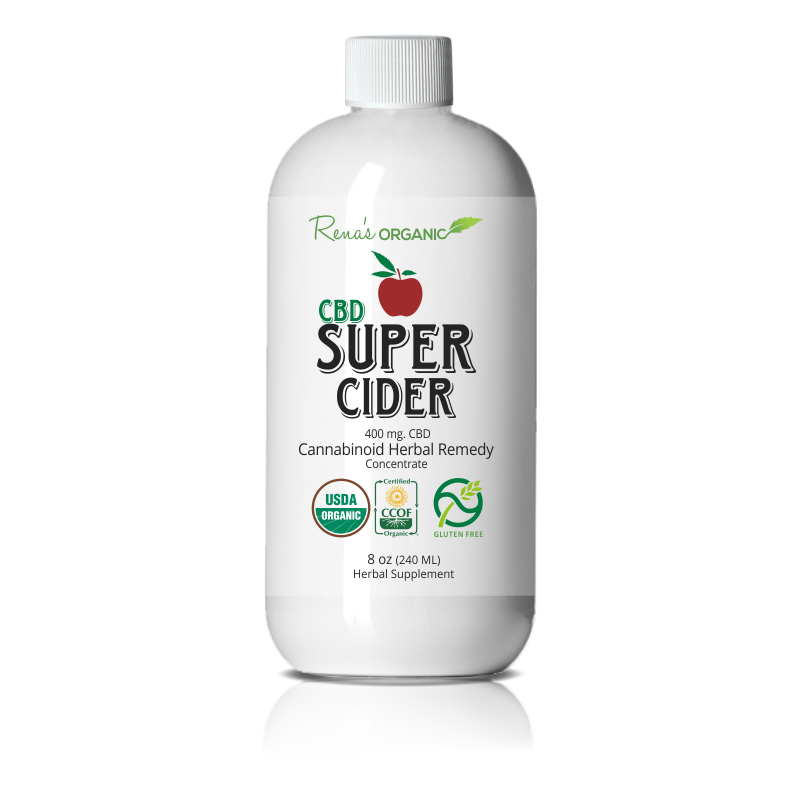 This cutting edge formula helps to reduce fatigue and ease the excruciating pain caused by inflammation. The powerful Cannabinoids in CBD Super Cider assist in increasing your natural energy for long-lasting stamina and vitality.
We use the highest quality CBD available in the marketplace, extracted with a unique patented multi-phase process. This insures that you are getting the full spectrum of antioxidants, phytochemicals, cannabinoids, terpenes and polyphenols in the plant.
The unique combination of ingredients in this formula, including organic apple cider vinegar and healing essential oils, help to stabilize blood sugar, reduce anxiety, alkalize, energize and bring healthy balance to the body.
*The FDA has not evaluated the validity or truthfulness of these claims. They are for informational purposes only. We encourage you to make your own nutrition and health decisions based upon your research and in partnership with your own qualified medical professionals.  These statements and products are not intended to diagnose, treat, cure or prevent any disease. ALWAYS SEEK YOUR MEDICAL PHYSICIANS ADVICE.