CBD tinctures are liquid dietary supplements that contain a high content of cannabidiol. The CBD component is typically mixed with a carrier oil to reduce the bitterness of CBD and make it more pleasant to consume.  Tinctures that are mixed with MCT oil offer the added health benefits of the Medium Chain Triglyceride omega 3 oil.
CBD tinctures have little to no THC content and aren't psychoactive. That's because when they are Full Spectrum, they only have less than 0.3% THC. Full Spectrum tinctures are preferred because they carry the medicinal value of the whole plant, as opposed to chemically isolated and cheaper isolates. Tinctures are not medical marijuana because they do not have over 0.3% THC, so they are legal and available to everyone. Additionally, they have a strong CBD potency that helps the body in different ways.
How Do You Use CBD Tinctures?
Tinctures are meant to be taken in small doses at a time. Most tincture bottles come with droppers that you can use to consume a few drops of the CBD tincture. Because of the bitterness of the liquid blend, some people find it difficult to directly consume the tincture orally. In these cases, a few drops may be added to liquid foods such as beverages or soups, to make the intake more pleasant.
For maximum effectiveness, however, tinctures should be consumed sublingually. This means inserting a few drops of the liquid underneath the tongue. This method of intake is much more efficient than other oral methods and yields quicker results.
Don't immediately swallow the tincture after adding drops under your tongue! It's important that you hold the liquid for at least one minute and swish it around your mouth to increase the chances of it being absorbed into the sublingual artery. This will allow the CBD to enter the bloodstream directly instead of having to pass through the digestive track first. You'll begin to notice the effectiveness of the tincture within a few minutes.
Why Should You Use CBD Tinctures?
So the question then arises, why should you use CBD tinctures as opposed to other forms of CBD consumption?
Well, since they're combined with carrier oils, it's easier to consume them. This method requires no other preparation unlike other techniques that involve smoking or vaporizing the CBD content. Also, most vaping solutions contain chemicals, flavors and additives. High quality tinctures do not.  It's also easy to carry tincture bottles in purses or pockets, and you can take the desired dosage of CBD at your convenience and with precision.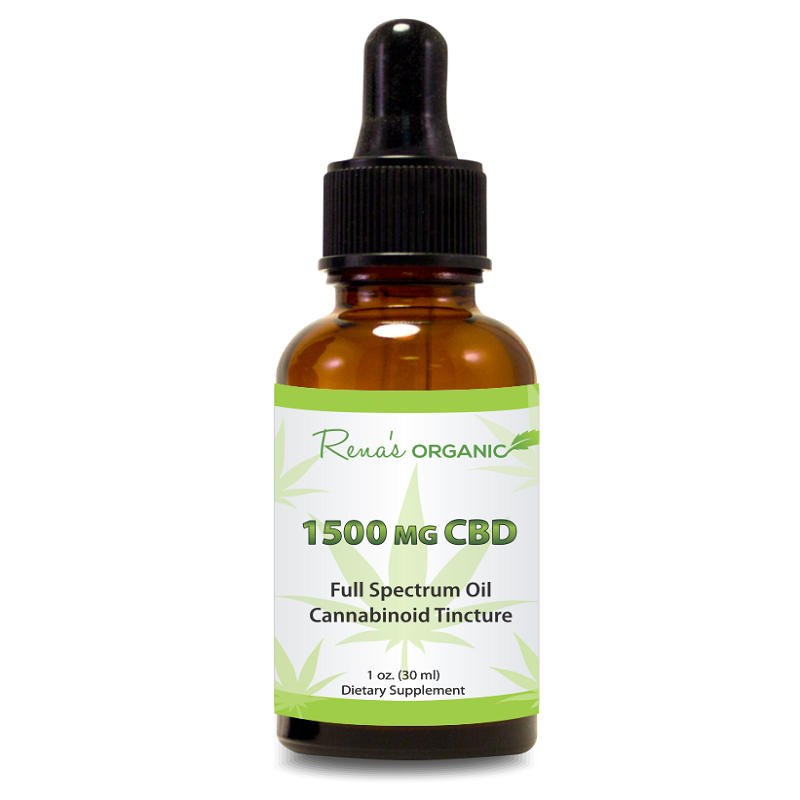 CBD tinctures also have a number of health benefits and can be used to promote a healthier lifestyle. As an anti-irritation and antiseptic mixture, it helps promote a happier mood, improve sleeping patterns, enhance brain functioning, reduce soreness, and boost the immune system. Some people have reported that they are using CBD for body building.
Rena's Organic provides a variety of organic CBD products that have numerous health and wellness benefits. Our Full Spectrum CBD tinctures aren't contaminated by any fillers and use pure CBD that's been tested by a third party. Mixed with organic MCT coconut oil and orange essential oil, it maintains maximum CBD potency. We also have CBD dietary supplements available.
Call at 800-848-2822 to learn more about our organic products!