There are many ways of using CBD: you can smoke it, inhale it, ingest it orally, apply it topically, or take it sublingually. Out of all of the ways you can consume CBD, taking it sublingually may be the least known. However, it's also far more effective than taking it any other way.
Medical marijuana experts believe that the best way to get the most out of CBD is to place a few drops of potent CBD oil tinctures under the tongue. Don't worry! If you're unfamiliar with this methodology or you don't know how to consume it, Rena's Organic has you covered. We're here to outline everything you need to know about consuming CBD oil under the tongue.
Do You Swallow CBD Oil?
You sure do! Many people consume CBD oil, whether it be orally or sublingually. Swallowing CBD is an extremely common way for people to get their dose of CBD quickly and effectively. Plus, it doesn't pose much risk whatsoever. Typically, as long as you do proper dosing and take a look at the quality of your oil, you should be just fine to swallow your CBD oil. But, why would you do this? What's the point?
When we talk about swallowing CBD, there are two different methods. You can either your taking CBD oil sublingually or orally, depending on your personal preference. Oral consumption refers to adding your CBD oil drops to other foods and beverages and then consuming it that way. That's not the methodology we're focusing on today, though! Here, we're talking all about the benefits of sublingual CBD consumption.  
What Does Sublingual Consumption Mean?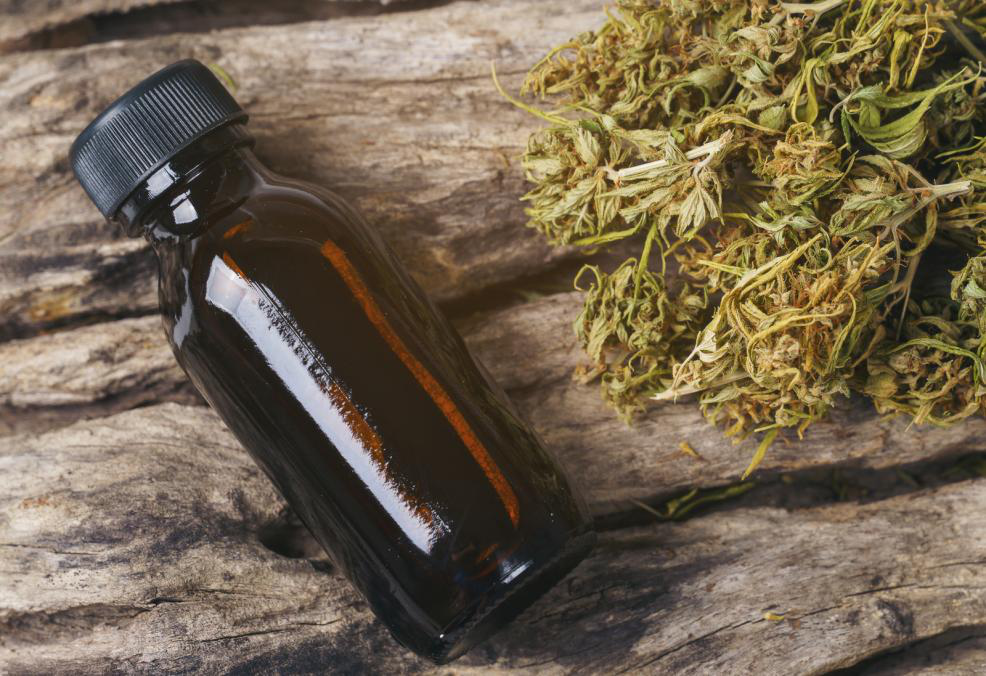 Sublingual consumption means that you're placing your dose of CBD oil directly underneath your tongue. When you do this, it allows the cannabinoids to seep into your bloodstream through the mucus membranes in your mouth. This helps create a fast-acting, potent CBD delivery system, as the cannabinoids don't have nearly as hard of a time traveling throughout the body as they would if you consumed it orally. Let's explain.
When you add CBD into your food or beverage, the body has to first digest whatever it is you've eaten. This process can be quite painstaking for the cannabinoids within the food products, and they often break down before they can actually reach the bloodstream to do their work. Thus, you'll be waiting longer for the effects to kick in with oral consumption, and the potency may not be as strong as if you chose the sublingual route. If you're curious about more medical benefits of this interesting consumption method, we're talking more about it in detail down below.
How to Consume CBD Oil Under Tongue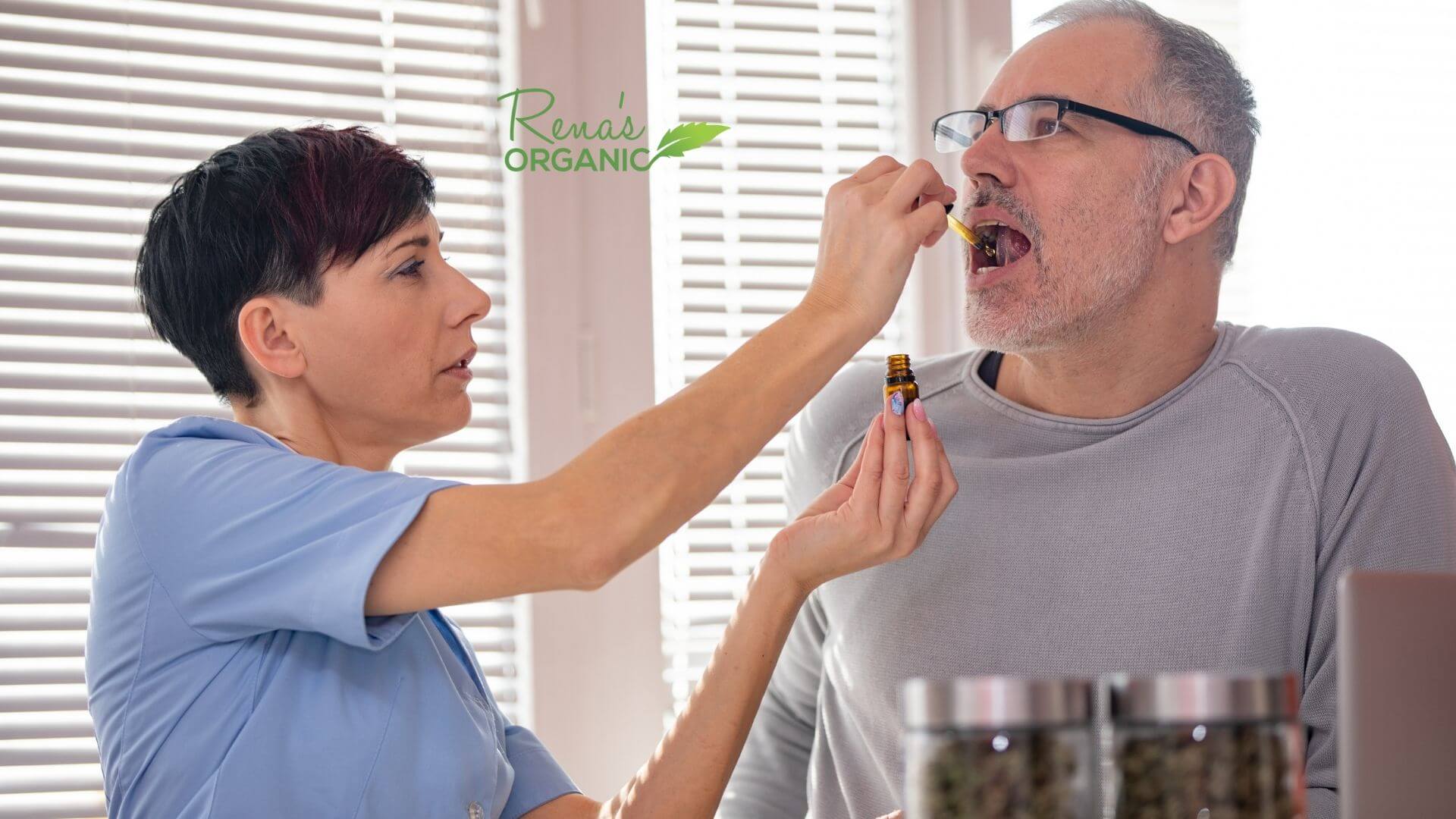 Sublingual consumption may sound like a complicated term, but it's extremely easy to do. And you've probably already picked up on how the process works. However, let's discuss in detail how to consume CBD oil under the tongue. 
First, you'll need to determine your ideal dose. Here at Rena's Organic, we sell a wide variety of CBD oil potencies, some mild, some strong, and some extra-strong. Pick out whichever dosage CBD works best for your health benefits and wellness. 
From there, you'll need to open your tincture and squeeze the top part of the tincture. When you do this, you're filling the dropper with CBD oil. When you take out the dropper, you should see measured ticks on the side. This will show you how full your dropper is, and if you're taking a full or half-dose. If there's more CBD oil in the dropper than you'd like to consume, simply squeeze a less CBD out back into the bottle.
Finally, you're ready for consumption! Lift up your tongue and squeeze the remaining oil underneath it. Make sure you take your full dose! Then, leave the substance in your mouth for at least 20 – 30 seconds before swallowing. You can also swish the substance around your mouth, getting it on your gums. 
That's all it takes! Within just a few minutes, you should start to feel the effect kick in. If you don't experience any effects after an hour, try consuming a stronger dose next time. 
CBD Oil Under Tongue Benefits
There are so many benefits to consuming CBD oil under the tongue. Here, we've outlined three of the main reasons why people choose to consume CBD sublingually, and why you should try it, too! 
Fast Absorption
As with any form of medication, you'd want the benefits of CBD to kick in soon after you take it. When you take CBD sublingually, the absorption speed is much faster than it would be through other methods.
The mucous membrane under the tongue quickly absorbs the chemicals. Our tongues also have a layer of tissue under them containing lots of capillaries, so the CBD chemicals go straight into the bloodstream and skip the digestive process.
Level of Potency
When CBD is ingested orally by swallowing a few drops of CBD oil tinctures, or through capsules and CBD gummies, it has to go through the digestive tract, which reduces CBD oil affects.
The gastrointestinal tract contains acids, enzymes, bile, and stomach acid. These harsh chemicals attack foreign bodies and reduce the potency of CBD.
All particles absorbed by the stomach also have to go through the liver, which substantially reduces CBD potency.
By taking CBD sublingually, it bypasses the gastrointestinal tract and the liver and enters the bloodstream with high potency.
Accessibility
Like we've mentioned before, CBD tongue drops are so easy to use — they're great for practically every consumer. They come in basic tincture bottles, so you don't have to worry about any fancy technology or painful inhalation. Instead, you just place a few drops under your tongue and call it good! 
If you don't have great use of your hands, that's okay. You can have someone else give you your CBD dosage, or even have someone put the CBD into your food or drink if that's easier. That is the beauty of CBD oils! You can take it in so many ways, and it's so easy to enjoy. If you're brand-new to the world of CBD, this is a great product option to begin with.
How Long Does Absorption Take? 
CBD only takes 30 minutes to absorb when taken sublingually. After it's taken, its effects can last for 4-5 hours; they last longer because some contents will be swallowed and go through the digestive tract.
If you prefer to take CBD orally, take it when you're eating because the chewing mechanism causes a rise in blood flow in the mouth and maximizes the absorption rate.
Those who don't like the bitter taste and pungent smell of CBD can place a few drops of CBD oil under their tongues and hold it there for 45 seconds before swallowing it.
Rena's Organic sells a range of full-spectrum CBD products, including CBD oil tinctures of various strengths (300mg, 600mg, 1500mg), CBD Superfood, CBD anti-aging, and pain relief creams.
Side Effects of Hemp Oil Under Tongue
One of the biggest reasons we love cannabidiol and CBD tongue drops is the fact that these products are natural and don't pose much risk whatsoever. Compared to traditional medications and substances, CBD's side effects are few and far between; when they do happen, they're easy to combat, too. However, it's important to recognize that there are some adverse effects that can happen from CBD consumption. Here are the main potential side effects of hemp oil:
Dry mouth

Drowsiness

Fatigue

Diarrhea 

Reduced appetite 
Typically, these effects are caused by overconsumption and having a dose larger than your body is comfortable with. When consuming, make sure you start with a very low dose of CBD and see how it feels. Then, if you want a stronger dose, you can slowly increase the potency until you experience the desired effects. Doing this is the best way to ensure a comfortable, effective CBD journey. 
Also, do keep in mind that CBD simply doesn't work for everybody. If you find that you consume CBD and don't experience any positive effects, that might just be your body's way of saying that CBD isn't for you. And that's okay! All of our bodies are just different. 
Applying and Using CBD Cream 
CBD users can now pick from a variety of products including capsules, vapes, and CBD cream. In fact, CBD cream 1000 mg is growing in popularity as it has a host of antioxidant properties that are helpful in fighting the visible signs of aging. In addition to beauty products, there are several topical CBD products marketed towards athletes such as a CBD pain cream. Below is information on how to correctly apply a CBD cream 1000 mg and find the required dose. 
Finding the Right Dosage of CBD Cream – When consuming CBD orally, users may be concerned about how much CBD product they are ingesting. However, topical CBD is more localized and specific, so the specific dosage is not so worrisome. When using CBD creams, you can use the same amounts that you would with any other type of lotion or cream. To avoid wasting product, focus on applying CBD cream 1000 mg to common problem areas such as elbows, knees and other joints. 
You can also apply the CBD cream 1000 mg to the feet, face, as well as the neck and shoulder areas. When using CBD pain relief cream, dosing may be more precise. With a high quality CBD cream, containing 1000 mg. full spectrum CBD, you don't need to apply much at a time in order to feel relief. It may be helpful to apply a small amount to an area and wait for 1 hour to see if you can feel the effects. If you don't experience any relief, you can apply more. 
Even the most effective CBD creams will require that you reapply every 3-4 hours. Always make sure that you wash your hands and the area that you are applying the CBD cream to. Rena's Organics carries only the highest quality CBD cream 1000mg on the market that can help moisturize the skin and promote healing. Rena's Organic CBD creams quickly absorb into the skin to reduce inflammation and improve skin health.
How to Find the Best CBD Product For You
When looking for the ideal CBD product, you need to ask yourself a few questions. First, how do you want to consume your CBD? Do you want to consume it orally, sublingually, or maybe apply it topically, instead? From there, you'll want to determine how strong of a product you need. Strength will depend on how chronic your condition(s) is, and why you're turning to CBD in the first place. If you need something long-lasting and deep-seated, you're going to need a higher potency product than someone who just needs a bit of support. 
Once you've answered these questions, it will be much easier to determine which products — oils, topicals, or powders — are best for you.
As you can tell, there are a lot of different CBD products you can choose from on the market today. Because of that, sometimes, finding the right product for you can be a bit difficult! Rena's Organic is here to change that.
Our online store is seamlessly stocked with all the CBD products you could want and need, without offering any tricky or unnecessary product options. Instead, we offer just the highest-quality, purest CBD products possible. Plus, we always have our third-party lab-test results available on our website, and via a QR code on every label, so there's no concern about quality. You can see for yourself the exact cannabinoid levels in your products with these results. They also demonstrate that they are third party tested for harmful additives like heavy metals, toxins, pesticides, and more.
Buying Top-Shelf CBD With Rena's Organic
At Rena's Organic, we strive to always put our customers first, creating CBD formulas that we know can help enhance health and wellness. No matter what kind of product you're looking for, or which consumption method you'd like to use, we have the perfect selection for you. When you place an order on our website, we'll work tirelessly to get your order processed and shipped the same day you order. If we can't do it that quickly, we promise to get it shipped out within 72 hours. Then, your product will arrive safe and sound right at your doorstep, ready for consumption. 
Whether you're curious about the benefits of CBD oil under tongue or some other consumption method, we're here to answer all of your CBD-related questions. You can check out all the other resources we have to offer, helping you better understand the beauty of cannabidiol and all it has to offer.  

FAQ
Should CBD oil be taken under the tongue?
When CBD oil is under the tongue, it will be absorbed directly in your bloodstream. The areas to focus on for this process are the mucous membranes and the capillaries under them. It's not clear how much of a benefit there is compared to taking CBD in other ways, but there is strong evidence to suggest that this method is preferable for many people.
What happens when you put CBD oil under your tongue?
The surface area of the mouth is very large, and it has a lot of mucous membranes. The capillaries in these membranes are very narrow, so they help to maximize absorption into your bloodstream. When CBD oil is placed under the tongue, it enhances saliva production from glands in that area. This also serves to increase absorption through the mucous membranes.
What other ways can I take CBD?
You can take CBD through your stomach, which will also increase the saliva production. Some people prefer to take CBD sublingually, or under the tongue with a dropper because it is more targeted delivery method. However, since most of the absorption happens in the intestines with other methods, it's difficult to say if this makes much of a difference, or if it is really necessary.
How does CBD work in other ways?
There are a few different ways that CBD can be taken for almost all of the same benefits. There are sublingual sprays, sublingual tinctures, oral capsules, and even transdermal creams. The main difference is the time it takes for these methods to take effect. For example, an oral capsule may take 30-60 minutes to take effect, while CBD in the form of a cream can take several hours.
Can you put CBD vape oil under your tongue?
It's not a good idea to put CBD vape oil under your tongue simply because this is not the products' purpose. You should be vaping CBD liquid and not sublingually consuming it. We strongly urge you to avoid doing this, and only put sublingual products under the tongue. 
How often can you take CBD oil under tongue?
This depends on you! If you're someone who requires consistent support for your wellness, then you'll want to put CBD oil under the tongue at least twice a day — once in the morning and once in the evening. If you're a beginner who is just curious about the therapeutic effects of CBD, then we'd suggest starting with just one dose a day. However, consuming more than one isn't likely to have adverse effects as long as you're waiting long enough in between doses.