CBD has created quite a buzz in the health and wellness arena. The active ingredient extracted from the hemp plant does not have any intoxicating properties, meaning there's no actual "buzz" associated with it!
We use high-quality CBD hemp extracts to develop the finest, all-natural, and purest CBD tinctures in the market.
Organic CBD is used for several purposes. From medical to recreational use, CBD is incorporated in a variety of things, including cosmetics and skincare products, owing to its purported soothing, healing, and therapeutic properties.
Many people use CBD as a natural remedy for mood regulation,  stress, and anxiety. This can further help with sleep issues and depressive symptoms.
1.   CBD Tinctures for Stress
Stress can spillover to affect a person's health, productivity, and personal relationships. A research study uncovered that CBD tinctures can help improve symptoms of stress, inducing calmness and a better sense of overall well-being. It can also help manage anxiety associated with stressors. However, further randomized controlled trials need to be conducted to prove its efficacy
2.   Manage Sleep Issues with CBD Organic Tincture
A promising study revealed that CBD can help with sleep issues. It can help prolong sleep and improve the quality of sleep, thereby allowing you to wake up feeling more refreshed.
What's more, if taken before bed, CBD organic tincture can help induce a sense of relaxation, which prompts sleep.
3.   CBD Organic Tincture and Anti-Depressive Properties
Several studies have tried to understand CBD's anti-depressive properties. A recent study from 2018 found that CBD shows promise as an anti-depressant alternative owing to its therapeutic properties.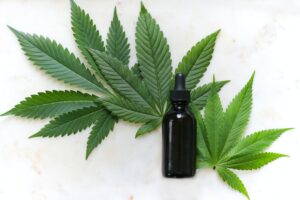 So if you're looking to shop for pure CBD organic tinctures for mood regulation, overall calmness and relaxation, then look no further!
We have a range of organic CBD products here at Rena's Organic. From CBD Super Food to CBD Anti-Aging Cream, we have all the products you may need for holistic well-being!  CBD Organic Tincture specifically may help reduce anxiety, improve mood and prolong sleep. These are available in different dosages; 300 mg  and 1500 mg. Get your hands on organic CBD products today and prioritize self-care during these trying times! You can also contact us for further queries.