CBD 1000mg. Anti-Aging Beauty Cream
This cutting edge formula combines the power of 1000 MG Full Spectrum, Organic CBD with active plant extracts, to soften, moisturize, firm, beautify and revitalize your skin.
The CBD used in this advanced blend is renowned for its skin enhancing effects, giving your complexion a smooth, youthful and healthy appearance. 1000 MG CBD Anti Aging Beauty Cream is easily absorbed into the skin. This non-greasy, lightly scented state-of-the-art formula is ideal for both men and women.
Who should use CBD 1000 MG. Anti-Aging Beauty Cream?
Anyone who wants to rejuvenate and revitalize their skin. This cutting edge formula was created for all skin types and for people of all ages who want to achieve a noticeably smooth, youthful complexion.
What makes this skin care unique?
The high dose of pure, organic 1000 mg. CBD is a powerful catalyst to help counteract the environment's daily damage to your skin. Additionally, the ingredients in this blend were carefully formulated to keep your skin moisturized. This helps to give your skin a plump, smooth feeling, to combat the drying that often occurs with aging.
Finally, the medicinal power of the CBD assists in healing minor skin irritations and blemishes to keep your skin firm, smooth and youthful. Its antioxidants and cannabinoids aid in undoing the damage from sun exposure, pollution and natural aging.
My skin is very sensitive. Will this work?
Rena's Organic CBD 1000 MG. was formulated to beautify and sooth even the most sensitive skin. However, we recommend that before applying to your face, rub a small amount on an unnoticeable area of your body. Wait 24 hours to make sure that your skin has a positive response before applying to your facial skin.
What if I don't see results?
The feedback about CBD 1000 MG Anti Aging Beauty Cream has been extremely positive. Our customers love the results they are seeing with our unique, high quality, CBD based skin care blend.
At the same time, if for any reason you aren't 100% fully satisfied with your results, you can return all our Rena's Organic products for a full 30 days.
I'm so happy to have you try our anti aging beauty cream risk free. If after 30 days you don't see a noticeable difference in your skin and your appearance, please call or email our USA based customer service team and receive a 100% refund (less shipping).
What's in Rena's Organic CBD 1000 MG Anti-Aging Beauty Cream?

Rena's Organic 1000 MG CBD Beauty Cream is an advanced formula, designed to:
Calm skin irritation and blemishes.

Alleviate signs of aging by decreasing imperfections.

Reduce puffiness.

Improve skin color and tone.

Beautify and give a smoother looking, radiant complexion.

Hydrate skin.

Reduce the appearance of wrinkles.

Tighten sagging skin.
CBD 1000 MG. Anti-Aging Beauty Cream may be helpful to:
Soothe minor skin irritations.
Reduce appearance of blemishes.
Soften your skin.
Beautify your face.
Moisturize.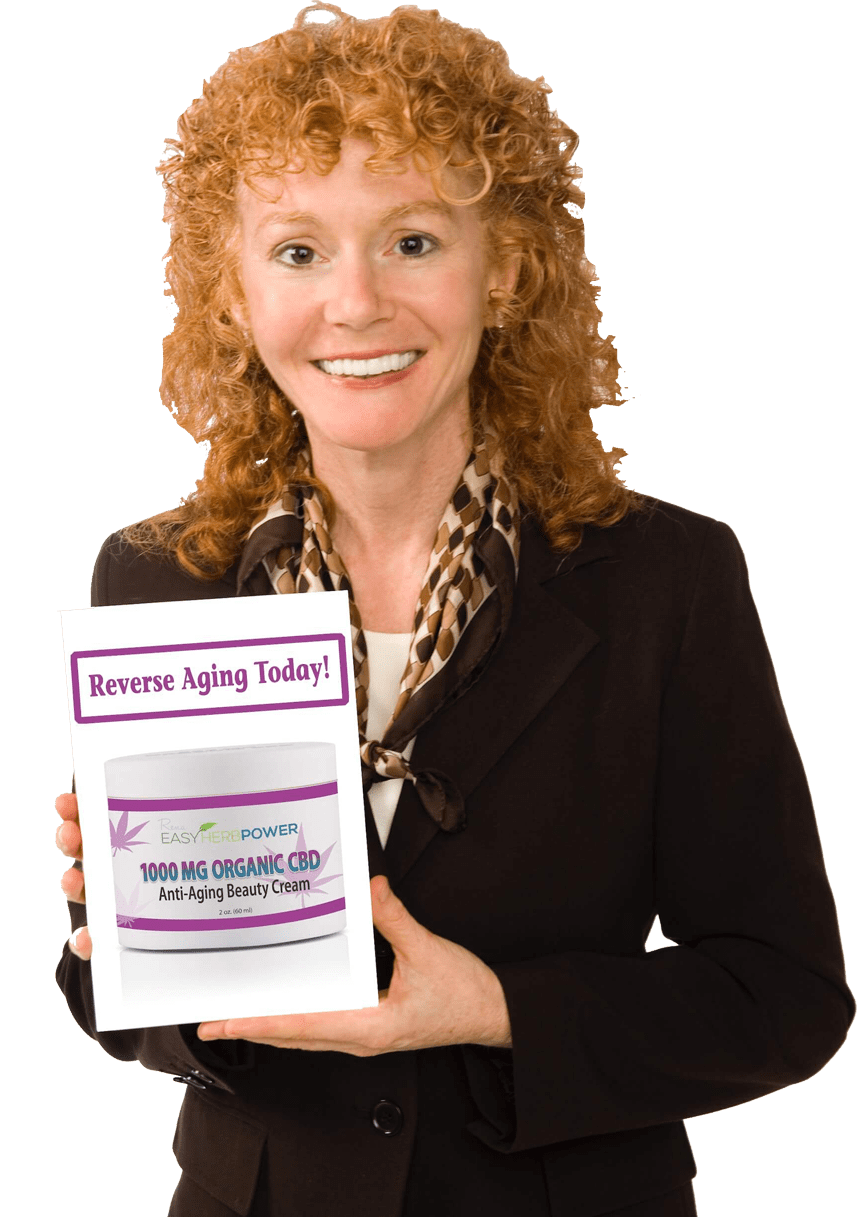 Rena's Organic® CBD soothes the skin, softens, moisturizes, firms, beautifies and improves appearance and complexion. At the same time, CBD is known for its skin rejuvenating properties.
This non-greasy, lightly scented cream is easily absorbed into the skin. We use organic, 1000 MG, highest potency full spectrum CBD infused with high quality ingredients such as Aloe Vera and Blood Orange essential oil, for maximum beauty and healing results.
75% of your skin is made up of a protein called Collagen.  Collagen is considered to be the secret to a youthful appearance. It helps to eliminate imperfections.  One of the key causes for the breakdown of collagen is the presence of free radicals (from the environment, diet and stress). The best way to combat these free radicals is with anti-oxidants. 
Rena's Organic CBD 1000 MG. Beauty Cream is rich in plant-based nutrients.  Nothing is more beneficial to your health and beauty than a diet rich in plant-based foods.  At the same time, applying Rena's Organic® 1000 MG CBD Beauty Cream to your face, in the morning and in the evening, will help nourish your skin from the outside-in.
Rena's Organic® 1000 MG CBD Beauty Cream is so easy to use:
Just apply a small amount on your face and neck and rub gently, for soothing, healing and beautifying. Because of the high dose of potent CBD in this product, a wonderful side benefit is that you can apply a small amount to skin on any part of your body that needs healing and nourishing.
In addition to full spectrum, organic high potency 1000 MG CBD, our beauty cream was specially formulated to include healing ingredients such as Aloe Vera, omega-3 rich Coconut Oil, Olive Oil, Vitamin E and essential oils of Chamomile, Blood Orange and Cinnamon.
The combination of these high quality ingredients will leave your skin feeling silky and smooth. It is the ultimate protection for your sensitive skin.
What is CBD and how does it work?
Click here to learn more
Rena's Organic® 1000 MG CBD Beauty Cream was created to be beneficial for all skin types.  If you have any concerns, we recommend that you test the product before applying to your face, by rubbing a small amount on a patch of skin that is not very visible.  Wait 24 hours to make sure that your skin responds to the 1000 MG CBD Beauty Cream as you had hoped.
Active Ingredients and their benefits:
Distilled Water
Hydrates the skin to increase elasticity, alleviate dryness and reduce signs of aging.
Aloe Vera
Aloe Vera softens facial skin without clogging pores. Studies have shown Aloe Vera to be beneficial as a moisturizer, as it keeps the skin hydrated. Due to its known nutritional properties, including vitamin C, Vitamin E and Beta Carotene, Aloe Vera helps the skin to heal faster. Aloe Vera contains hormones and enzymes that stimulate the growth of new, healthy cells to improve the appearance of the skin.
Cocoa Butter
Loaded with fatty acids and antioxidants, Cocoa Butter has been known to prevent dry skin, combat signs of aging, soothe burns, rashes and infections and reduce or eliminate puffy skin.
Coconut Oil
Throughout the world, Coconut Oil is notorious for its skin rejuvenating properties. Coconut Oil is high in Vitamin E, a compound known to protect the skin from damage caused by free radicals. High in saturated fat, Coconut Oil is recognized for its ability to assist in healing skin and naturally clearing away dead skin cells, creating a healthier looking complexion.
Olive Oil
Omega rich Olive Oil is a potent ingredient to hydrate your skin. Rich in a molecule called Oleocanthal, it is known for its ability to calm irritated or inflamed skin, creating a youthful, radiant appearance. The Polyphenols and Vitamin E in Olive Oil help to neutralize any free radicals than could otherwise harm the skin and speed up the aging process. This is what gives Olive Oil the ability to combat aging.
Cetearyl Alcohol
An emulsifier, this ingredient keeps the oil and water from separating, allowing our CBD rich Beauty Cream to penetrate below the surface of the skin, giving you the most benefit. If a cream is not emulsified correctly, it will simply sit on the surface of your skin, which prevents it from being effective. With proper emulsification, the fresh ingredients in this advanced formula can blend well and work together.
1000 MG Full Spectrum Cannabidiol (CBD)
A plant based skin solution for healing and beautifying.
Chamomile
Chamomile Oil is potent with vital antioxidants that have been known to contain healing properties, for thousands of years. This ancient herb has been used on the skin for centuries to create a vibrant and youthful appearance. Chamomile has been reported to improve skin conditions and reduce puffiness.
Vitamin E
Vitamin E helps to block free radicals, while preventing, neutralizing and repairing the damage caused by these harmful molecules. It supports cell growth, encouraging new, healthier skin cells by speeding up cell regeneration. Vitamin E is used to heal dehydrated skin, adding luster and radiance.
Citric Acid
A derivative of citric acid fruits such as grapefruit, lemon and orange, this organic agent is known to lighten and brighten the skin.
Blood Orange Essential Oil
This dynamic essential oil is known for its ability to maintain healthy smooth and glamorous skin. Due to its detoxifying benefits, Blood Orange essential oil can be incredibly helpful when it comes to achieving and maintaining youthful, healthy skin.
Cinnamon
Since ancient times, Cinnamon has been used to improve skin health. It is known to bring a radiant, vibrant appearance to the skin by stimulating blood vessels and bringing blood to the surface of the skin. It also has been used widely to treat skin conditions that cause the skin to become puffy and irritated.
Meet Rena Greenberg
Rena Greenberg, Celebrity Health & Wellness Speaker and Coach, has been helping people lose weight and get healthy for 30 years. Since 1990, her wellness programs have been reviewed and sponsored in 75 hospitals and 100+ corporations across America, including Disney and AT&T.
She is the best selling author of the Hay House book, The Right Weigh and The Craving Cure. Her success has been featured in over 150 TV and newspaper stories including on CNN, Good Morning America, ABC-TV Nightline, The Doctors Show, FOX News, NBC TV, Woman's World Magazine and her own show on PBS.
Rena has been featured on:

★★★★★

based on

6

reviews.
Overall rating:
★★★★★
"
It goes on so smoothly. I love the light scent.
"
-
Joelle T, Macon, Georgia
★★★★★
"
Wow, it really made a difference in my appearance. My friends asked me what I was doing. I'm so glad I switched to the CBD beauty cream. I can really feel and see the difference.
"
-
Cindy F, Annapolis, Maryland
★★★★★
"
My skin has a more youthful appearance now. I really like how the cream feels, too, when I apply it. My skin just feels softer now.
"
-
Lorraine Bronner, Stamford, Connecticut
★★★★★
"
I'm taking the CBD beauty cream along with the CBD Super Cider. I really feel the difference. I think the cream is making my skin softer. People are starting to notice that there's something different about me. It's working!
"
-
Susan C, Dover, Delaware
★★★★★
"
My daughter was suffering with skin issues. I had just bought the CBD Beauty Cream and gave it to her to try. The redness disappeared and her skin looked brighter after just a few days. I don't think I'm going to get the jar back!
"
-
Sandra S, Jacksonville, Florida
★★★★★
"
I've tried a lot of different moisturizes and skin care lines. This product is different. I like that it's so simple. It's just one cream to apply. I put on a small amount in the morning and in the evening. A tiny bit really goes a long way. What feels different to me about this product is that it seems to really have a healing effect. I've been reading your information on CBDs and I'm really excited about the effect they can have on your body, inside and out. I'm going to order the three bottles of CBD super cider, too, and try the tincture. Thanks for these wonderful products!
"
-
Julie M, Sanibel, Florida
Helping Others
All Hands All Hearts: Smart Response

Rena's Organic donates a portion from every sale to All Hands All Hearts. All Hands All Hearts provides quick response and long-term aid to victims of natural disasters, such as floods, hurricanes, fires, tornadoes and earthquakes. A+ Rated by Charity Watch. 96% of our donations go straight to those in need.
★★★★★

based on

6

reviews.
Overall rating: