How to Maximize the Health Benefits of CBD
(No Matter Who You Buy it From)
You Could Be Missing Out On CBD Oil's Incredible Benefits – Even Though You May Be Using It Right NOW!
"Before buying your first bottle of CBD anywhere (or your next bottle,) read my book to discover how to get optimum benefits from your CBD. My passion is to help ease people's suffering and struggling, so I am offering my book free, for a limited time. It may just change your life…" – Rena Greenberg, Renowned CBD Expert, Author and Health Advocate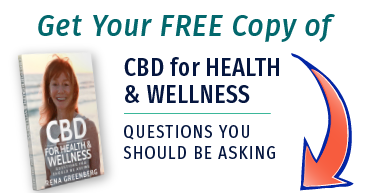 I was just 26, living the life in New York City. It was fast-paced.  Fashion. Working. Travel.
All of a sudden and with no warning, it was like someone pulled my plug.
I lost all my energy and I had no idea why. I lay in bed for days, unable to lift a finger.
I went from doctor to doctor. They had no clue.
As I was about to give up and just let nature take its course, by the grace of God, three different people within a space of 24 hours told me the exact same thing.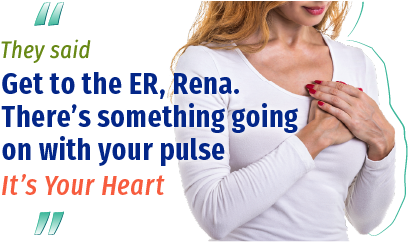 I don't know about you, but I took that as a sign.
So I walked, I actually walked, to the Brooklyn Methodist Hospital. I walked in thinking it was going to be a waste of time. That they're not going to find anything.
They took my pulse and the next thing you know, they whisked me right into the emergency room.
As I was hooked up to all kinds of wires and machines, the surgeon leaned in real close and whispered…
"Rena, it's your heart. It's beating at only 30 beats per minute."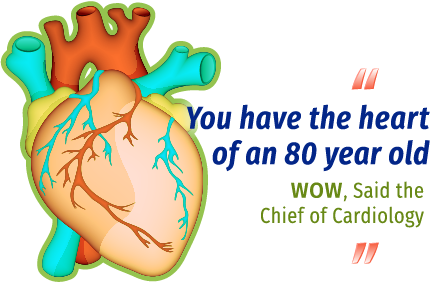 I still remember his tone of voice. Unbelievably sobering. Scary, beyond belief. They admitted me into the cardiac care unit.
The next day, the chief of cardiology came in and told me I had the heart of an 80-year old.
Wow. Later that day, as I was laying in the hospital bed in the cardiac care unit, I suffered a full-on heart attack.
Chest pain, pain radiating down my left arm.
I was in trouble. Big trouble. And I knew it.
The surgeon had no choice. If I was to live, I needed a pacemaker. After the emergency operation, I spent the next three weeks in the hospital.
Thankfully, I survived. However…
The ordeal was a wake up call for me and sent me on a 30-year quest to search out all things health and healing related
My name is Rena Greenberg. And I've been a strong advocate of health and well-being for the past three decades.
You may have seen me on TV. I've been on The Doctors Show.  I've also been on PBS. Media networks have either interviewed me or run articles on me.
After the surgery and regaining my energy, I wanted to learn the secret to health and wellness–mental, physical, emotional health.

So I set out studying Western medicine… Eastern medicine… the mind – body connection… nutritional herbs and ancient medicines. While I am not a doctor, I ultimately developed a health program that was sponsored by over 75 hospitals.
I've also worked with over 200,000 people, traveling to major corporations and doing programs on-site for employees about how to achieve optimal health.

Rena has been featured in…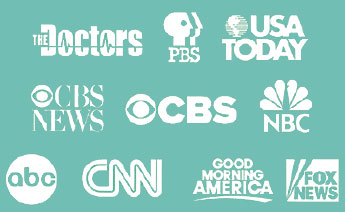 And one of the most powerful things I've discovered is the healing power of CBD Oil
I could rave about CBD Oil for days. Even though it's been legal for only six years, it's done so much for so many people.
However, as I've also discovered, despite its enormous health benefits, odds are you're missing out on CBD's incredible benefits–even though you may be using it right now!
Don't get suckered by the CBD misinformation avalanche
Here's the challenge:
Companies large and small are trying to get in on the lucrative CBD action. There's a lot of money to be made.
Unfortunately, at this point in time, consumers are being flooded with misinformation and it's causing a tsunami of a problem.
There are no standards-everybody's claiming to be "the best."
Well, let's just say that "the best" is a relative term.
Truth is, manufacturers galore are out there peddling unhealthy, toxin-laden, chemically-treated trash.
Now I'm NOT saying all of them are.
The challenge is all the CBD bottles and jars and tubes look alike, don't they?
As you've probably figured out, they are anything but similar.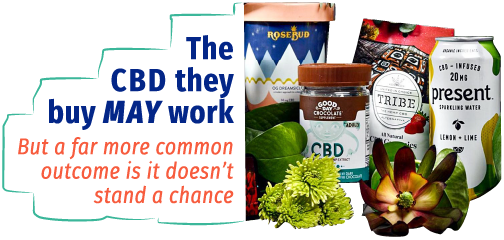 Without standards, this situation has led to people buying CBD based on what amounts to a hope and a prayer.
The CBD they buy may work–but a far more common outcome is it doesn't stand a chance.
Many manufacturers are preying on people's ignorance of the industry, as well as their desperation to find relief for their ailments.
Knowing CBD's tremendous benefits, it's difficult for me to stand idly by while people are suffering, while they're in pain, not to mention watching their bank accounts slowly being drained
Again, just as I had done 30 years earlier, I went on a quest. And over the past four years, I've researched every possible nook and cranny of the CBD industry.
As a medical researcher, I went on a mission. Very quickly, CBD became my "magnificent obsession."
In my case, when I take CBD oil, my hormones feel leveled out and I sleep better. I had issues with my blood sugar my whole life, and now all of a sudden my blood sugar is steady as a rock. Amazing!
I had way more energy, but it wasn't a hyper caffeinated jolt. It was a calm kind of energy, like waking up refreshed after a nap.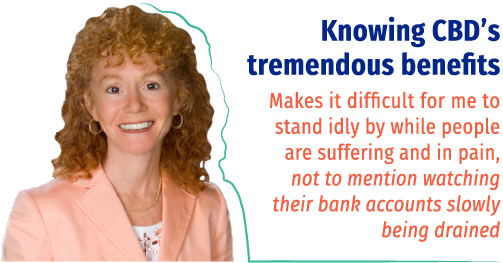 Starting Out, I Had So Many Questions
How is the best CBD grown, manufactured and packaged?
What's the best way to get it into your system for best results?
What's the optimum dosage and can you OD?
How does CBD work inside the body exactly?
What are the specific benefits of CBD?
My research took me on quite a journey. The more I researched, the more excited I got.
The biggest thing I discovered are the TOP THREE THINGS that differentiates one CBD manufacturer from another
When you strip away all the marketing and fancy packaging, there are three ways you can tell good CBD from bad CBD and everything in between:
Good CBD or Bad? – 3 Ways to Tell

How the hemp plant is grown.
Soil composition and growing conditions make a huge difference in the quality of CBD.

How the hemp plant is processed.
I discovered there are several different ways hemp can be transformed into CBD, each with their own peculiar pros and cons.

Third-party lab analysis.
Most people don't know manufacturers of quality, medical-grade CBD adhere to strict soil and product testing (and don't mind sharing the results.) These are tests you as a consumer have access to (IF you know how to read them.)
These are the primary factors that determine whether you will benefit from the CBD you buy.
So if you've bought CBD in the past and it didn't quite deliver on its promises, I can tell you exactly why
In fact, I've written a 128-page book, unlike anything out there.
I've documented my years of CBD research so that you won't have to suffer anymore. It's called: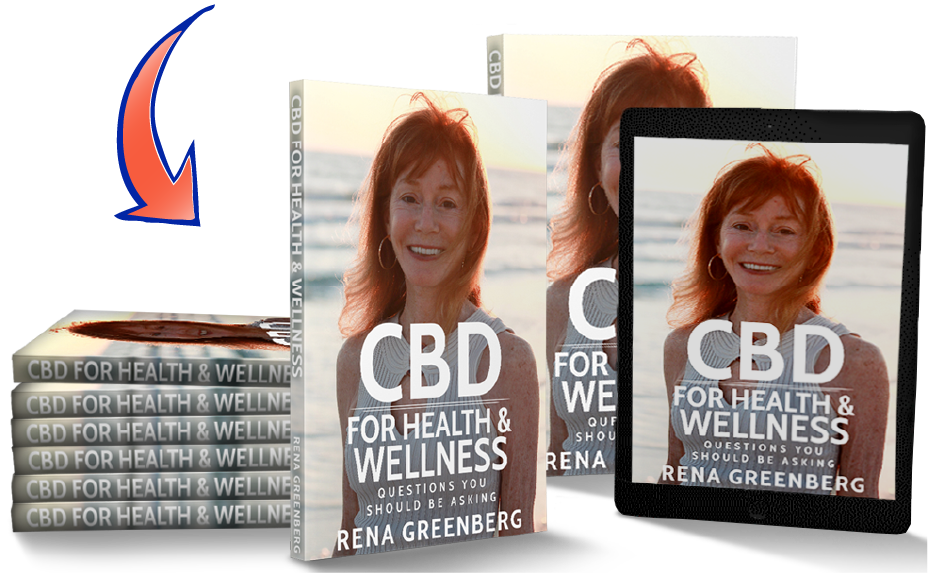 I wrote CBD for Health and Wellness – Questions You Should Be Asking for those who have tried CBD and didn't receive the promised benefits. I also wrote this book for all those who haven't tried CBD yet and do not know how to distinguish one CBD product from another.
If you see possibility that CBD may hold the key to your health and well-being, my book is for you.
It pains me deeply to know that the reason people aren't receiving the benefits is because no one is telling them how to judge a good CBD product from a mediocre or poor one.
Manufacturers may say their product is "the best", but upon closer examination what you'll discover may shock you.
In my book, CBD for Health and Wellness, I show you how to know beyond a shadow of doubt whether you are buying a quality CBD product loaded with health benefits or an ineffective (and expensive) piece of garbage
Now listen, I'm not judging the motives of CBD manufacturers.
That's not my job. My job is to be your advocate, sharing with you the fundamental questions you should be asking of your CBD provider and to share with you their anticipated answers.
Then I decode them and tell you exactly what they're saying.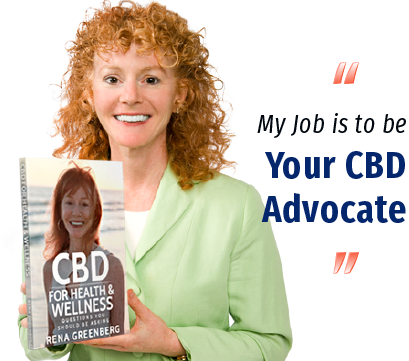 As your CBD advocate, I cut through the hype, mystery and technical jargon, and reveal what manufacturers are really saying
For instance, CBD products can be classified between full spectrum, broad spectrum, distillate, isolate and nano CBD. Which one are you getting?
It matters–a lot. It makes a HUGE difference whether you are getting CBD's full benefits.
In my book, "CBD for Health and Wellness – Questions You Should Be Asking", I not only describe in layman's terms what the various methods are, I explain how you can find out for yourself exactly what's in your CBD.
I can promise, it'll be eye-opening. And it may change your life.
The #1 Question I Get Asked – "Why doesn't CBD work for me?"
You've tried CBD before and for some reason, it doesn't work. Why?
There can be so many reasons. Which is why I just HAD to write my book.
In CBD for Health and Wellness – Questions You Should Be Asking, you'll be able to "connect the dots" and discover for yourself, how to get the optimum benefits from CBD in your specific situation, no matter what your ailment.
One possible answer is it could be the type of CBD you're taking or it could be the dosage. Or it could be how the product was manufactured or where it was manufactured.
What I've learned is that you can't just take what manufacturers say at face value.
Now what I'm not saying is that vendors lie or that there's fraud involved. That's not what I'm saying at all.
In my travels, I've just uncovered example after example where marketers try to hide the truth. By omission mostly, but sometimes through renaming of ingredients.
Here's what others have said about "CBD For Health And Wellness – Questions You Should Be Asking"
"Wow! Such a difference taking the right CBD makes! I can't believe how good I feel after only one dose. Thank you for everything. Rena, you're a lifesaver!"
"Based upon the information in your book, I bought my first bottle of CBD and it's amazing. Thank you so much for sharing your knowledge. I can't imagine buying CBD without your book in hand."
"…thanks. Your book did not disappoint. It's like you've given me a roadmap to the world of CBD. I've wasted thousands on CBD attempting to heal my condition. Now I know why it didn't and now I know how to tell the difference between a great CBD and expensive crap."
"Using your book, I went to my dispensary to examine their CBD products. I was surprised by the variety. It was easy to spot the good product from the bad."
In a nutshell, I'm advocating for you to be an informed consumer, armed with the information you need to make a good choice about which is the best CBD for you.
Here's What You'll Discover Inside My 128-page Book
How CBD affects the body's "bliss molecule" which is KEY to feeling better mentally, physically and emotionally (Page #71)…
Why CBD is a better option for sleep than pharmaceuticals (ladled with side effects) and even supplements like melatonin and valerian root (Page #100-102…)
The 9 major ailments CBD works best for (Page #95-107)…
Is CBD an option if you are susceptible to addiction? (Page #99)…
Why it's next to impossible to get "high" taking CBD (Page #13)…
Hidden health benefits of taking CBD regularly (Page #104)…
How CBD helps with IBS, diarrhea and loose stools according to several studies (Page #102)…
Why the potency and purity of the CBD product matters (Page #114)…
Does it really matter if CBD comes from hemp or cannabis plants? (Page #16-17)…
What are the true risks to taking CBD (Page #87-90)…
What's the best CBD potency? (Page #89)…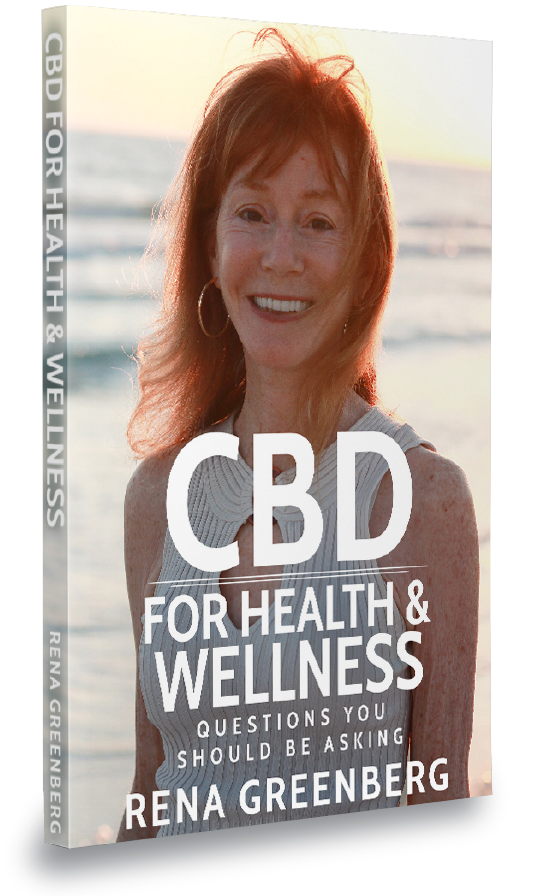 The scientific studies that show CBD as a superior alternative for chronic pain than opioids, over-the-counter pain relief and even herbs (Page #98-99)…
What are the drug interactions you should be concerned about (Page #79-82)…
There are so many things to take into account, these are just a few of them…
Is CBD being organic important? Why or why not (Page #17-18)…
What's THE BEST WAY to take CBD? (Page #109)…
Is CBD the same as medical marijuna (Page #13)?…
Does CBD contain psycho-active THC? (Page #23)…
Can CBD combat cancer and tumors? (Page #96)…
Why is some CBD considered snake oil? Page 14)…
Why are you just throwing your money away if you buy CBD and don't know what you're getting (Page #9)…
How CBD fights chronic inflammation (Page #97)…
What else should you take into consideration when purchasing CBD in addition to the extraction method and price (Page #114)…
What is considered medical grade CBD? (Page #93)…
Studies that show how CBD helps with chronic anxiety (Page #100)…
What should you look for when buying CBD? (Page #113)…
Why a simple thing like a QR code on the bottle is indicative of a quality CBD product (Page #114)…
What is Bulk Biomass Hemp and why it matters if purity is important to you (Page #16)…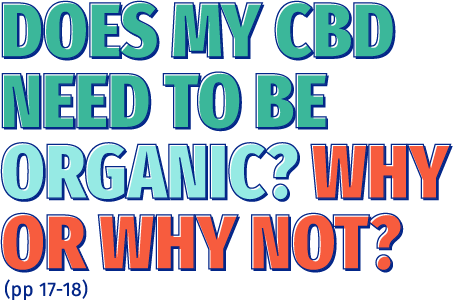 What are terpenes and flavonoids and why they're essential to you getting the benefits (Page #35)…
The special attribute of the hemp plant that can make ingesting it toxic (Hint: scientists brought hemp to Chernobyl, the site of an accidental nuclear explosion) (Page #17)…
Why the distillation process used can be a sign of inferior hemp (Page #68)…
What is the primary difference between full spectrum CBD and isolates and which is superior (Page #35)…
Why you want to make sure the CBD you ingest comes from organic, chemical-free, metal-free soil (Page #93)…
What the THC/CBD ratio is and WHY CBD must have some THC in order to be optimally effective (Page #19)…
Why imported CBD is far cheaper (and the intangible cost to you… Page 19)…
What is "The Entourage Effect" and how it helps you. I'll even share how to unleash it to help you heal (Page #21)…
Why the hemp's genetics are an important factor in your CBD selection and how to find the source (Page #19)…
What is a COA (Certificate of Analysis) of the master extract and why it matters before you buy your CBD (Page #27)…
What is Resin, where it comes from and why you need it for a quality hemp production (Page #63)…
Why a FEMALE hemp field is critical to maintain a quality CBD production (and what happens to a CBD production when the hemp field is male)… (Page #68)…
Can CBD lower blood pressure? (Page #17)…
What is "full spectrum" hemp production and why is it CRITICAL to realizing CBD's benefits (Page #21)…
The nine disorders CBD can help with (Page #95-107)…
Why female seeds are preferred for hemp production (Page #19)…
How CBD can reduce vomiting and nausea caused by chemotherapy, according to one study (Page #95)…
Why most CBD suppliers are unfortunately not fully transparent about their source of CBD (and what you can do about it… (Page #18)…
What are cannabinoids, flavonoids and terpenes, and why they are important in helping you get better (Page #23)…
The attributes of authentic, full spectrum CBD and how they work together to help you realize CBD's incredible benefits (Page #21)…
Why hemp stems and seeds should NEVER be used is CBD production (Page #24)…
Studies that show how CBD helps with pain and inhibits inflammatory responses (Page #31)…
Why the best CBD is the least refined (as opposed to highly refined… Page 22)…
What's the difference between CBD, THC and hemp and why's it's critical to your health and well-being (Page #23)…
The roles of cannabinoids, terpenes and flavonoids in CBD and how to make sure you're getting them in your product (Page #25)…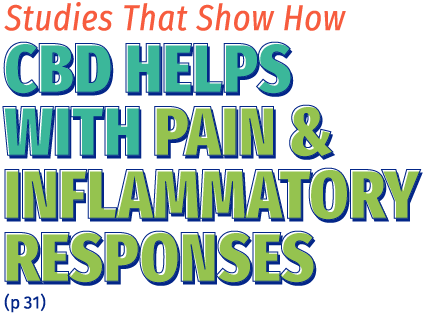 One weight-related benefit of CBD (Page #102)…
What is industrial hemp vs a cannabis plant (Page #23)…
Unlike THC, how CBD significantly helps your brain in three specific ways (Page #71)…
Did you know CBD is also considered therapeutic, anti-aging, antioxidant and neuroprotectant? It is and it has profound importance for brain-related challenges (Page #72)…
Why hemp seed oil is NOT therapeutic or medicinal (Page #22)…
Don't be fooled: The reason why you can't buy medicinal, effective CBD on Amazon (no matter what the product description says) (Page #24)…
Can CBD fight inflammation? (Page #95)…
Why most of the CBD products you see on the shelves are not medicinal–just ineffective hemp seed oil… (Page #23)…
One way to tell if you're buying legitimate CBD (without looking at the COA paperwork) (Page #114)…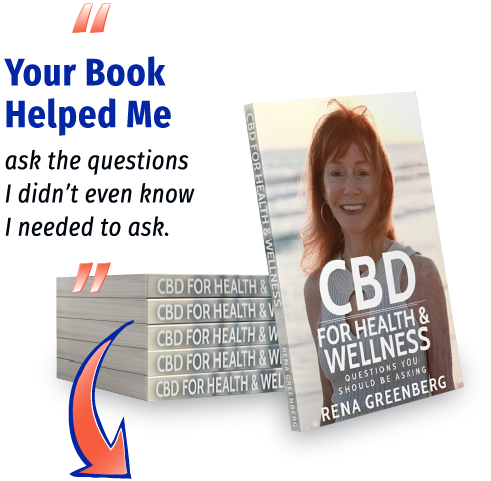 Why price of a CBD product is a quick indicator of medicinal value (Page #24)…
The two best states in the country to make sure your CBD gets sourced from and why (Page #26)…
Why organic CBD is vastly preferred (Page #28)…
How studies show CBD may help with weight loss and obesity (Page #107)…
The scary reason why you want your CBD to be tested for mold (Page #26)…
The bad thing about hemp when it comes to toxicity, metals and contaminants (Page #17)…
Soil cultivation: Why consumers should know whether the fields their CBD is sourced from is plowed or is regenerated by compost and other herbs (Page #27)…
Why your CBD should be grown on USDA certified organic land (Page #28)…
The four types of CBD and which one you definitely want to avoid (Page #21)…
The simple at home test to know whether your CBD is a distillate or full spectrum (Page #17)…
The one scientifically-proven quality that makes CBD medicinal (Page #23)…
Even though CBD is NOT psychotropic, it's a powerful anti-anxiety compound. Here's why (Page #31)…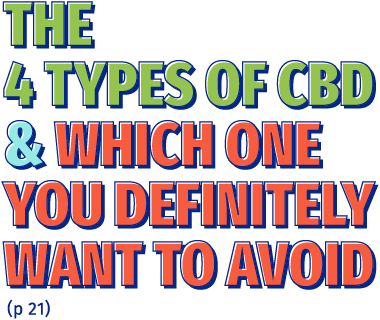 Why isolate CBD is less effective than full spectrum even if there's more CBD in an isolate (Page #31)…
Why full spectrum is like whole grain and CBD isolate is like processed cereal (Page #35)…
How to trigger "The Entourage Effect", engaging CBD's full medicinal benefits (Page #52)…
The best type of CBD to take if you need to take a drug test (Page #32)…
The science of how CBD helps with ulcerative colitis by reducing inflammation in the colon and rectum (Page #102)…
What is distillate and why it's inferior to full or broad spectrum (and how to know what you're actually getting) (Page #33)…
Why you want at least a little THC in your CBD (Page #32)…
Should you use a pure CBD isolate product? The answer is counterintuitive (Page #34)…
What are terpenes and how they can influence the healing process (Page #35)…
How CBD can reduce vomiting and nausea caused by chemotherapy (Page #95)…
How to read a COA (Certificate of Analysis)… (Page #37)…
Why if you want safe consumption, you must know the extraction process of the CBD extraction process (Page #29)…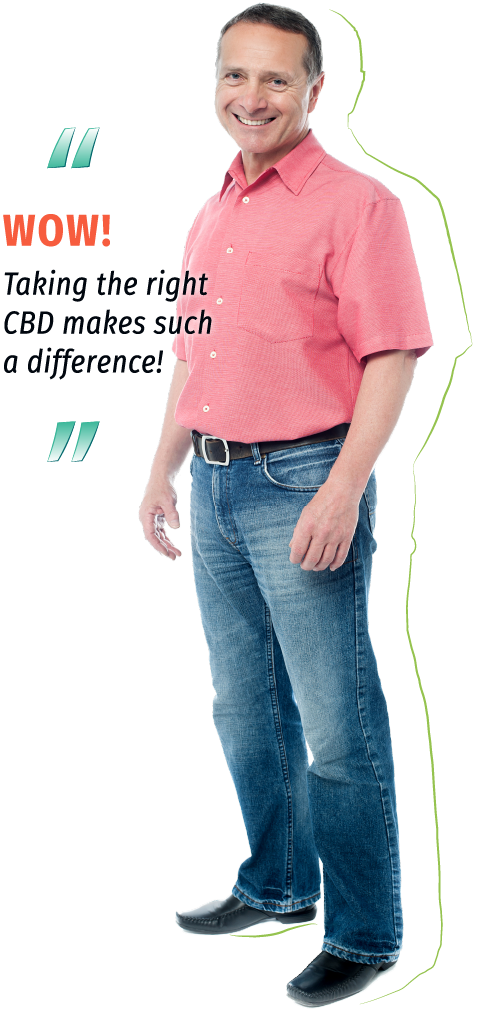 What's the best CBD extraction process so that terpenes remain intact with the product (Page #29)…
Why CBD helps with headaches and migraines according to studies (Page #103)…
Why you definitely want your CBD sourced from the USA (Page #30)…
Why you should avoid products that have high amounts of CBD (Page #69)…
The different extraction processes and the pros and cons of each (Page #29)…
What are the primary differences between CBD you buy online or at the medical marijuana dispensary (Page #69)…
The proven benefits of CBD based upon scientific studies (Page #71)…
What the "Bliss Molecule" does in the body and how CBD strengthens and prolongs its effects (Page #72)…
How to read a CBD product's label so that you can be certain of what you're buying (Page #73)…
What are the known drug interactions with CBD? (Page #79)…
Can you become addicted to CBD? (Page #88)…
Why grapefruit has a lot in common with CBD biochemically (Page #80)…
Studies that show why CBD may actually enhance your medication's effectiveness, including heart medication (Page #82)…
What happens when you mix alcohol consumption and CBD (Page #89)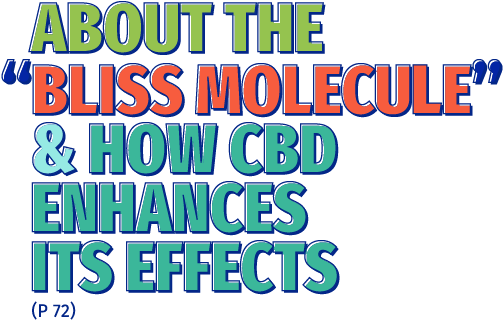 How much CBD to consume and when to consume it for optimum benefit (Page #87)…
Why false labeling is not uncommon in the CBD industry (Page #73)…
Little known factors that can influence your dosage (Page #88)…
Can you overdose on CBD? (The answer will surprise you) (Page #90)…
Why it's better to start CBD at a lower dosage and then work your way up (Page #88)…
How CBD can restore brain function, (even after heavy, consistent cannabis use)… (Page #94)…
What to do if you appreciate the benefits of CBD but you haven't felt them yet (Page #91)…
What is considered a safe dose of CBD (Page #89)…
Are there side effects to taking CBD? (Page #90)…
Why certain CBD, because of the extraction process used, such as isolates, distillates and even broad-spectrum products, just doesn't work (Page #29)…
Why gummies and vaping are not recommended (unless you don't care about medicinal benefits)… (Page #110)…
The best way to get CBD into your body if you suffer with pain (Page #110)…
Why high quality, organic CBD costs so much (and how you may be able to lower the cost)… (Page #25)…
The #1 characteristic of quality CBD (Page #22)…
Will CBD cause withdrawal symptoms if you don't take it? (Page #94)…
The pharmacological effects of CBD (Page #96)…
How CBD helps with pain and inhibits inflammatory responses (Page #97)…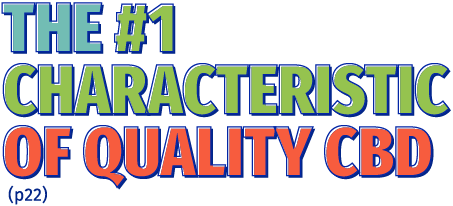 The one "happy hormone" that works with CBD (Page #100)…
Does CBD amplify the effects of opioid drugs? Yes, but there's also an interesting side-benefit (Page #99)…
Why CBD is recognized by scientists to have antioxidant, neuro-protective, sedative and anti-inflammatory properties (Page #95)…
What happens when your endocannabinoid system is broken and how CBD can fix it (Page #100)…
Why CBD helps with symptoms that often cause your doctor to say "It's all in your head" (Page #105)…
Symptoms of "endo-cannabinoid deficiency syndrome" (Page #103)…
How to know if you have an under-performing, hypo-functioning Endocannabinoid System (Page #102)…
How studies show CBD may help with weight loss and obesity (Page #107)…
One way full spectrum CBD combined with high quality essential oils, like menthol, can assist with the pain (Page #110)…
The worst methods of ingesting CBD (Page #110)…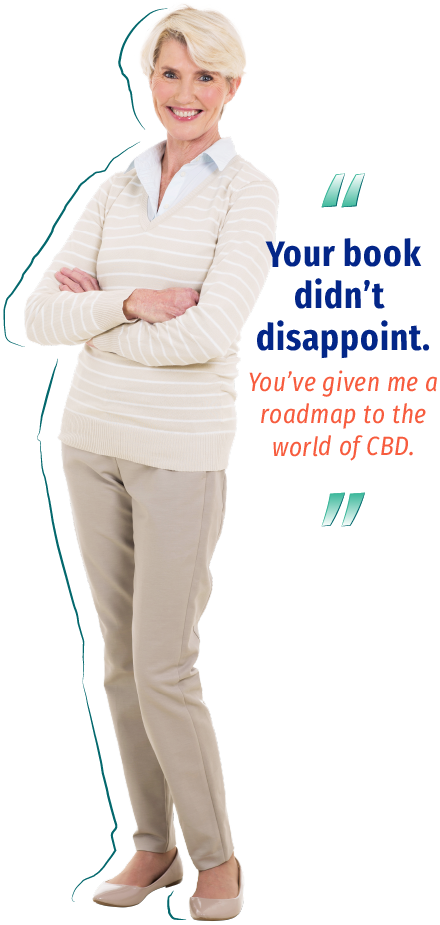 Sneaky little-known symptoms associated with lung-related CBD vaping (No one wants you to know this)… (Page #112)…
How to make sure the  soil your CBD is grown in is organic (Page #17)…
Why it's important for you to buy CBD from a company that displays third party testing from an accredited lab for each product (Page #29)…
Why if the CBD content was lower than 10% for the bulk hemp, it's very likely that you are ingesting poor quality hemp, extracted from the seeds and stalks, which do not contain CBD… (Page #22)…
Why, if you want the medicinal aspects of CBD, it must be a certain type of processing (Page #22)…
Why CBD isolates only offer temporary relief, (if they provide any relief at all) (Page #30)…
The type of hemp that can't produce full spectrum CBD (and how to know if your product contains it)… (Page #17)…
The two essential documents which you must read to ascertain the safety and potency of your CBD product (Page #114)…
Why it's so challenging to find affordable medical grade CBD (Page #93)…
How CBD works to help heal your body and mind (Page #25)…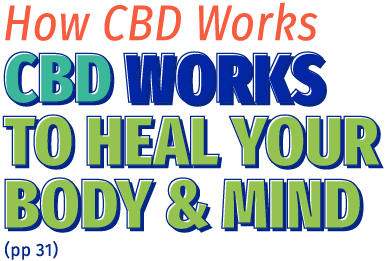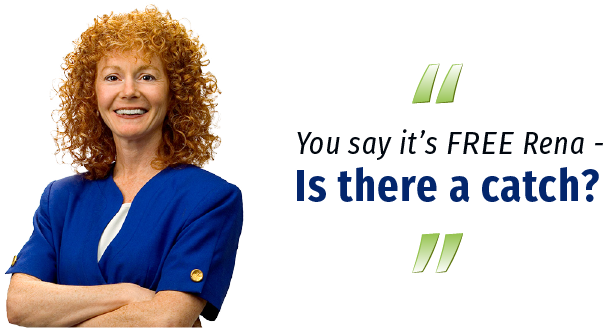 "You Say It's Free, Rena. Is There a Catch?"
The retail price of CBD For Health and Wellness – Questions You Should Be Asking is $19.99.
However for a limited time, I've decided to give my book to people for FREE. THERE IS NO CATCH.  Just enter your name and email and you're good to go. 
I know some people out there offer you something cool for free, but then trick you into some program that charges your card every month.
There's NO hidden "continuity program" or membership here. In just a few minutes, you'll receive a PDF and e-pub of my book. I hope you're able to take advantage of everything it contains.
I hope it helps you. I wrote it because people need to know the truth.
Knowing what you're actually buying when you purchase a bottle of CBD is a wonderfully freeing experience. You don't feel at the mercy of unscrupulous manufacturers trying to fleece you.
You feel smart. You feel intelligent. If you're asking questions of the clerk or CBD rep and they don't have the answers, you may even feel smarter than they are.
That's because you're a knowledgeable consumer, an informed consumer armed with life changing information.
The payoff? You stand a strong chance of choosing the right CBD for your situation and ailment.
And if I can help everyone do that, I've made a difference.

Beware of the slick celebrity marketing and fancy packaging
I'm not going to name names.
But the CBD industry has attracted famous celebrities known for their affinity to CBD and cannabis.
A word of advice? Be skeptical.
Products like these are often nothing but a money grab–shady marketers attempting to "cash in" on the CBD phenomena.
Listen, I'm attracted to celebrity products just as much as the next person. But in this case, the celebrities often don't understand CBD… the marketers don't understand CBD… but they do understand how to separate you from your money.
The information in my book will help you make a wise choice about the CBD you take.
Because the quality does matter…
I don't want to scare you, but…
I Don't Want to Scare You, But
Here's the worst case scenario:
The CBD you ingest is toxin-laden and chemically treated — stripped of all the beneficial co-factors that make it work.
You see, on the low end of the market, CBD comes from overseas where there's no oversight or care for the soil in which it is grown.
You see, the hemp plant is known for pulling toxins out of the soil. (Oh my gosh, they used it at Chernobyl, one of the worst nuclear disasters in history.)
That's why it's essential the CBD you ingest is made from hemp grown in ORGANIC soil.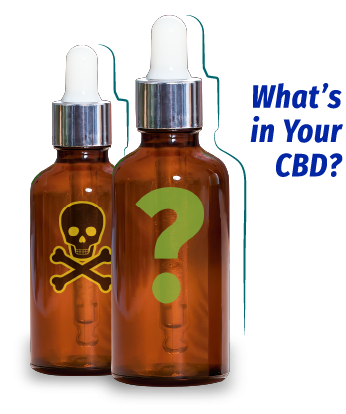 It gets worse.
Once the hemp plant is harvested, some companies will use harsh chemicals to process it into CBD.
If you ingest this kind of CBD, you'd also be ingesting those harsh chemicals as well.
How do you know you're buying this kind of CBD product?
Chances are high if you buy a product like this, you'd be ingesting those chemicals, too.
That's hardly healthy, is it?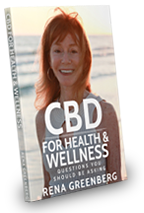 This is why you need to get my FREE book,
CBD for Health and Wellness – Questions You Should Be Asking. 
Does This Sound Familiar?
Your ailment is acting up… badly again. 
You've heard that CBD may be an option. So you go into a health food store and you see a cabinet full of CBD products under lock and key.
You ask them to open up the cabinet, but you have no idea which product is good. You look at a couple bottles as if you know what you're doing, but really you're just looking to see if you at least recognize a brand.
The truth is you're not sure which ones are good. That's why if you value your health and well-being, you need to be asking the right questions.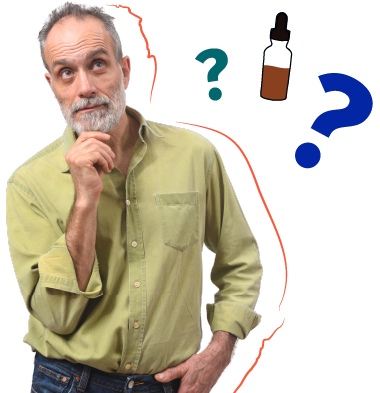 Who Is My Book, "CBD for Health and Wellness – Questions You Should Be Asking" Written For?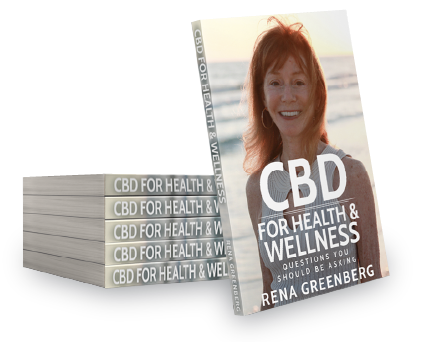 The desperate individual suffering from some sort of malady which CBD has proven to help others…
The disillusioned individual who has tried CBD before, but has yet to receive the promised benefits…
The first time buyer who wants to try CBD but doesn't know the difference between healthy, beneficial CBD and bad…
If you fit any of those descriptions, my book is for you and while I sell it for $19.99 plus tax, for a limited time it's FREE!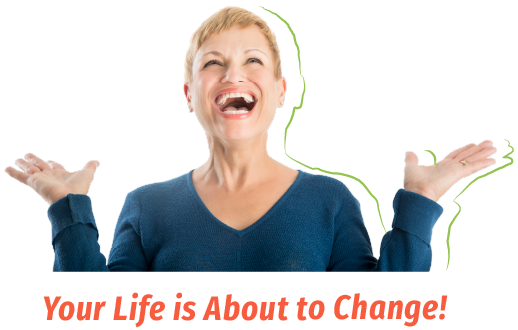 Here's something else I want you to know. I sincerely want to help you!
I know many people who have severe health challenges. They've seen how everybody else seems to benefit from CBD, but for some reason, CBD has not worked for them.
But they keep trying lotion after lotion, oils and creams… nothing works. Why?
If that's you, then you're the person I wrote my book for. It'll give you the answers you need to purchase the right CBD, the one that's right for you.
I explain what CBD really is, and what it isn't. I explain how it's grown, how it can be extracted and how it's described on the ingredients label. I explain what's the real deal and what's a sham product.
All of this can matter to you and your health, if you want to heal. If you want some relief.
It All Comes Down To One Thing… Trust
If you're going to get the benefits from CBD, you've GOT to find a brand you can TRUST to provide the best quality, medical-grade CBD available.
Otherwise, right now you're just throwing money away.
Let me show you how.
The market will sort itself out eventually, but there will always be bad actors conniving to separate you from your money. Don't let them.
This is exactly why I wrote my book.
Few are out there advocating for YOUR benefit… for your health… for your well-being.
Few are willing to tell you the WHOLE STORY. The COMPLETE STORY.
I am. And I'll continue to do it. I've made a few enemies, but the people I've helped so far are countless.
I want you to be the next one.
Go ahead and download my free book and I look forward to hearing from you soon!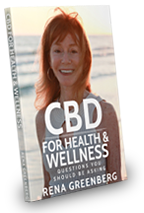 This is why you need to get my FREE book,
CBD for Health and Wellness – Questions You Should Be Asking.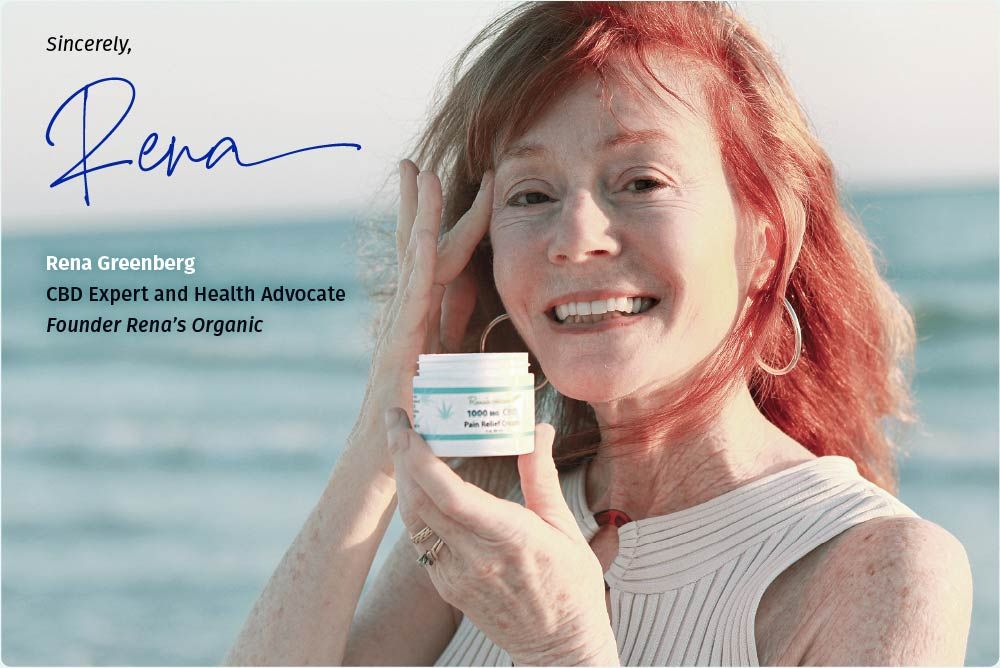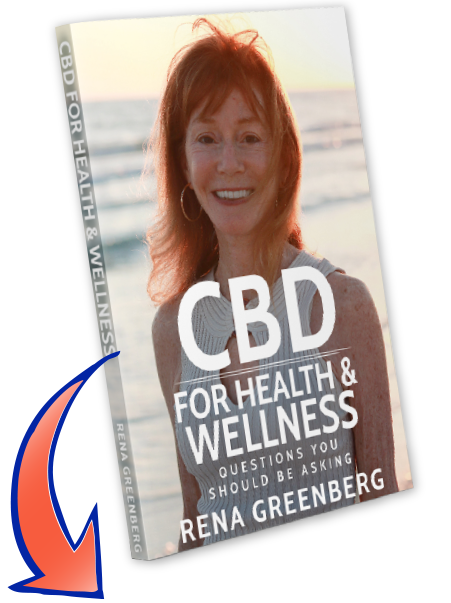 P.S. In case you're one of those people (like me) who scroll down to the end of the letter, here's the scoop:
I'm sending you a 128-page book, "CBD for Health and Wellness – Questions You Should Be Asking" (that retails at $19.99 plus tax) for FREE.
There's no catch… No Gimmicks…
You will NOT be signing up for any "trial" to some monthly program or anything like that.
So, Click the button below to get your FREE copy now. You're going to love it!