Frequently Asked Questions
How do I log in?
Click HERE to login. Use your email address used at the time of your initial purchase and the password you created.
Forgot your password?
No problem! Click HERE to reset your password.
I want to change my email address or mailing address.
That's easy! Just CLICK HERE to send an email to Customer Support and we'll be happy to update that for you.
Here are some common FAQs
I am interested in becoming a member? Is there a monthly or annual fee?
Becoming a member of Rena's Organic family is 100% free, yet, it will SAVE you lots of money. When you sign up for Rena's Organic email list, you'll get emails notifying you of big discounts on our products, immediately.
Why is CBD so expensive?
We use the absolute finest ingredients possible. I have been so frustrated by the confusion and misinformation I've seen when it comes to CBD products. I've seen products selling for $30-$80 that often have very little actual CBD in them. In fact they may be pure Hemp oil and nothing else. Honestly, that's what motivated me to create this top quality line of products.
I am so proud of the fact that Rena's Organic® products have high levels of full spectrum CBD. Additionally, all ingredients used by Rena's Organic® are sourced only from the highest quality organic farms.
All my products and each ingredient in each Rena's Organic® product comes with a third party certificate of analysis. Authentic, full spectrum CBD is an expensive ingredient because it takes a lot of plant material to yield a top quality product. I searched for a long time to find high quality CBD, grown in the clean air state of Colorado, under strict organic and regulated farming conditions.
We stand behind all our products. They are all high potency and a little bit goes a long way. Plus we have a 30 day 100% money back guarantee.
Why do you want to make sure your CBD is grown from seeds sourced in the USA?
Agricultural or Industrial Hemp is a very absorbent plant. Therefore any toxins in the soil or air will be absorbed right into the plant and its seeds. That's why you want to be certain that the CBD you buy is sourced only from a State that enforces mandated quality control (such as Colorado) and third party testing from a neutral source.
What makes Rena's Organic® products different from all the other products out there?
At Rena's Organic®, we take pride in the fact that we use only high quality ingredients. Our Full Spectrum CBD is organically grown in the great state of Colorado. The proprietary genetics of the plant material we use at Rena's Organic® coupled with the high quality Cold Sub-Zero extraction method insures the highest level of purity and potency available.
Full Spectrum means that we extract the CBD from the whole plant, not from Hemp seed (which has no medicinal value).
All the herbs (besides the CBD which is grown in Colorado) in our proprietary blends are organically grown in the farmland of rural Oregon, where our products are manufactured at an organic, GMP certified facility. We use absolutely no GMOs.
Why is Rena's Organic® CBD better?
Our CBD is grown in an Organic farm in rural Colorado using the highest and best farming practices. The CBD we use is Full Spectrum, meaning it has chlorophyll, polyphenols and terpenes from the whole plant.
Rena's Organic® CBD is extracted using CO2 Super Critical Extraction technology, insuring that the quality of the end CBD product we ship to you is of high integrity.
All our products contain a very strong CBD potency.
Don't be fooled by cheap products that say "Hemp." Hemp could very well be simply 'Hemp Seed Oil,' which has little value. It's confusing because CBD can also be called Industrial Hemp, but the term "Hemp" may not be CBD.
Also, inferior products often brag about high levels of CBD, but when you read the fine print, you may discover that they contain only 50-100 MG of CBD, if any. I've seen CBD "pain relief" ointment priced at $80 that never even reported on the label that there was only 200 MG. of CBD in it.
Compare that to Rena's Organic® Relief Cream, which contains 1,000 MG full spectrum CBD. That's right – one thousand milligrams of pure CBD in each jar!
We even have a Level One Relief Cream, due to popular demand, which contains 500 MG. of our top of the line Full Spectrum CBD.
Worse, much of the CBD out there is sourced from China or Europe. Even if the CBD is grown in the United States, it's likely that the seeds came from China, where there are minimal quality control standards.
Rena's Organic Results & Guarantee
What if the products don't work for me?
After 30 years in the wellness industry and having helped thousands, I created this high quality, top grade line of Rena's Organic® CBD and herbal products because I want everyone to have the chance to try CBD at a price they can afford.
At the same time I want you to be assured that you are getting the absolute best, safest and most beneficial CBD on the market.
After all, what's the point of paying a low price, if all you are getting is junk, right?
You can be assured that with Rena's Organic®  you are getting the highest 
potency CBD possible and the most pure, organic and therapeutic, CBD at the best price. And on top of that promise, you are protected by my 30-day unconditional money back guarantee.
I understand that everyone's body reacts differently, even to the same ingredient.
I want you to be completely happy and that's why I am offering you a chance to try CBD Super Cider 100% risk free, with my 30 -day money back guarantee.  If you are not completely happy with your results, for any reason, it's free (less the cost of shipping).  Just call our USA based customer service and we'll get that taken care of for you.
Quality Control and Third Party Testing & Analysis
What Quality Control Standards to you use?
We have extreme quality control so that every batch is vigorously tested to meet our high standards.
The CBD in all our Rena's Organic® products is analyzed and certified by a third party. Rena's Organic® CBD has eyes on it from seed to sale, meaning that every step of the way, it is tested for quality control.
The seeds we use come from Agricultural Hemp, using proprietary plant genetics that insure a superior end product. All our CBD is grown in Colorado, where the air is clean, the weather is perfect for CBD plant cultivation and the soil is free from toxins.
As an added bonus, our beautifying cream, relief cream, CBD Super Cider and Hemp Super Food Powder Blend, are loaded with additional beneficial, healthy, natural organic ingredients, to increase the effectiveness of the CBD and/or Hemp.
At Rena's Organic®, we are transparent and want you to know exactly the therapeutic potency you are getting. Before you buy any CBD product, make sure you know what you are getting. Ask to see the third party certificate of analysis and testing.
Can I see your third party testing and analysis certificate?
Absolutely. At Rena's Organic® we are completely transparent and want you to see the high quality CBD you are getting. See the complete profile of Cannabinoids.
Also, indicated is the fact that there are no chemicals, pesticides or solvents. You can be assured that the CBD at Rena's Organic® is pure and potent.  Never buy CBD without seeing a complete third party testing and analysis certificate.
Click Link to review recent and multiple 3rd party tests for all Rena's Organic products.
CBD Super Cider and Hemp Super Food (non- CBD)
What are the ingredients in CBD Super Cider® and Hemp Super Food®?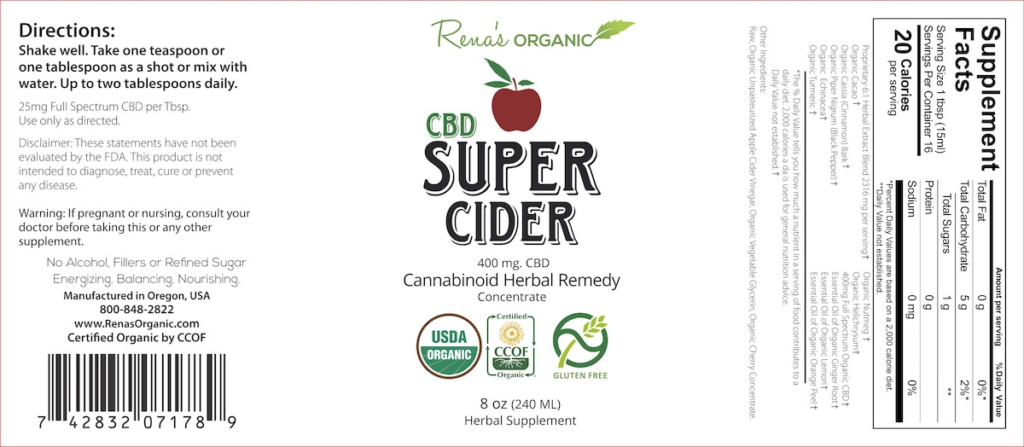 Hemp Super Food Energy
Energy Blend 2684 mg. **
Organic Hemp (NON-CBD), Organic Cacao, Organic Maca, Organic Beet, Organic Ashwagandha, Organic Astragalus, Organic Sunflower Lecithin
__________________________________________________________________________________
Digestive Blend 1440 mg. **
Organic Apple, Organic Ginger, Organic Amla, Organic Stevia, Organic Bhibitaki , Organic Haritaki, Organic Bladderwrack, Organic Acai
__________________________________________________________________________________
Green Health Blend 876 mg. **
Organic Carrot, Organic Moringa, Organic Spinach, Organic Chlorella, Organic Alfalfa,
Organic Barley, Organic Maqui, Organic Noni, Organic Horsetail, Organic Oatstraw, Organic Rice
CBD Super Cider Ingredients
400 mg. Full Spectrum Cannabidiol, Organic Cacao, Organic Cassia (Cinnamon) Bark, Organic Helichrysum, Organic Black Pepper, Organic Nutmeg, Organic Turmeric, Organic Echinacea, Organic Essential Oils of Ginger, Lemon and Orange, Organic Cherry Concentrate, Organic Raw Apple Cider Vinegar, Organic Vegetable Glycerin.
How much CBD is in each bottle?
Each bottle of CBD Super Cider® is filled with a generous 400 mg. of organic, full spectrum CBD. Every serving (one tablespoon) contains 25 mg of Cannabidiol (CBD). In addition to the CBD, CBD Super Cider® is loaded with 7 other powerful Cannabinoids, creating a synergistically powerful health-promoting formula.
How many bottles should I order?
If you just want to dip your toe in the water . . . start with one bottle so you can experience the benefits. Most people order 3 bottles to start with. This way you can take full advantage of the incredible savings, especially when you join our VIP Membership Club by purchasing at our site. CBD Super Cider with the 1000 mg. relief cream are both our best sellers and a lot of our customers go ahead and order the 6-bottle package to share with friends and family.
Does Slender Cider contain CBD?
No, it does not. Slender Cider® is an amazing aid for weight loss because so many of our customers tell us that it absolutely eliminates cravings and reduces their appetite. Most people mix Slender Cider® or Green Slender Cider in water and sip it all day long (although it's delicious as a shot).
Slender Cider® and Green Slender Cider alkalize, cleanse and have been reported to energize and aid digestion. Slender Cider is also an effective and powerful pre-biotic, providing nourishment for the friendly bacteria in your gut.
Slender Cider® and Green Slender Cider are both liquid herbal concentrates with 11 therapeutic herbs and essential oils in a base of raw, organic apple cider vinegar. They contain no alcohol, no caffeine, no sugar, no fillers and no artificial sweeteners.
Just pure Concentrate loaded with nutrients in every drop.
Helping Others
All Hands All Hearts: Smart Response
Rena's Organic donates a portion from every sale to All Hands All Hearts. All Hands All Hearts provides quick response and long-term aid to victims of natural disasters, such as floods, hurricanes, fires, tornadoes and earthquakes. A+ Rated by Charity Watch. 96% of our donations go straight to those in need.