After you discover all the incredible benefits of CBD, the next logical question is: how much CBD should I take?
CBD is not one size fits all. It's important to listen to your body and discover what the best dose is for you.  At the same time, let's take a look at some evidence-based guidelines to help you get started.
The perfect dosage of CBD for you will depend on many factors, including your stress level, your body weight, health conditions you may have, any medications you are taking, and the level at which your Endo-Cannabinoid System is currently functioning.
Your CBD dosage should also be determined by the results you ae looking to achieve.
As you review these guidelines, bear in mind that your dosage is not a static number.
It is likely to shift in time, so it's important to monitor your own symptoms and progress and make necessary adjustments accordingly.
The other thing to keep in mind is that sometimes less is more, especially when using high quality CBD products.
When the CBD product you are using is Full Spectrum and potent with Cannabinoids, Cannabidiol, Flavonoids and Terpenes, you may find that you actually need less to get the greatest benefit.
In general, it's best to start off with a small dose and adjust according to your body's response, until you get the desired result.  On the other hand, for certain conditions and optimal results, you may want to incrementally increase your dosage.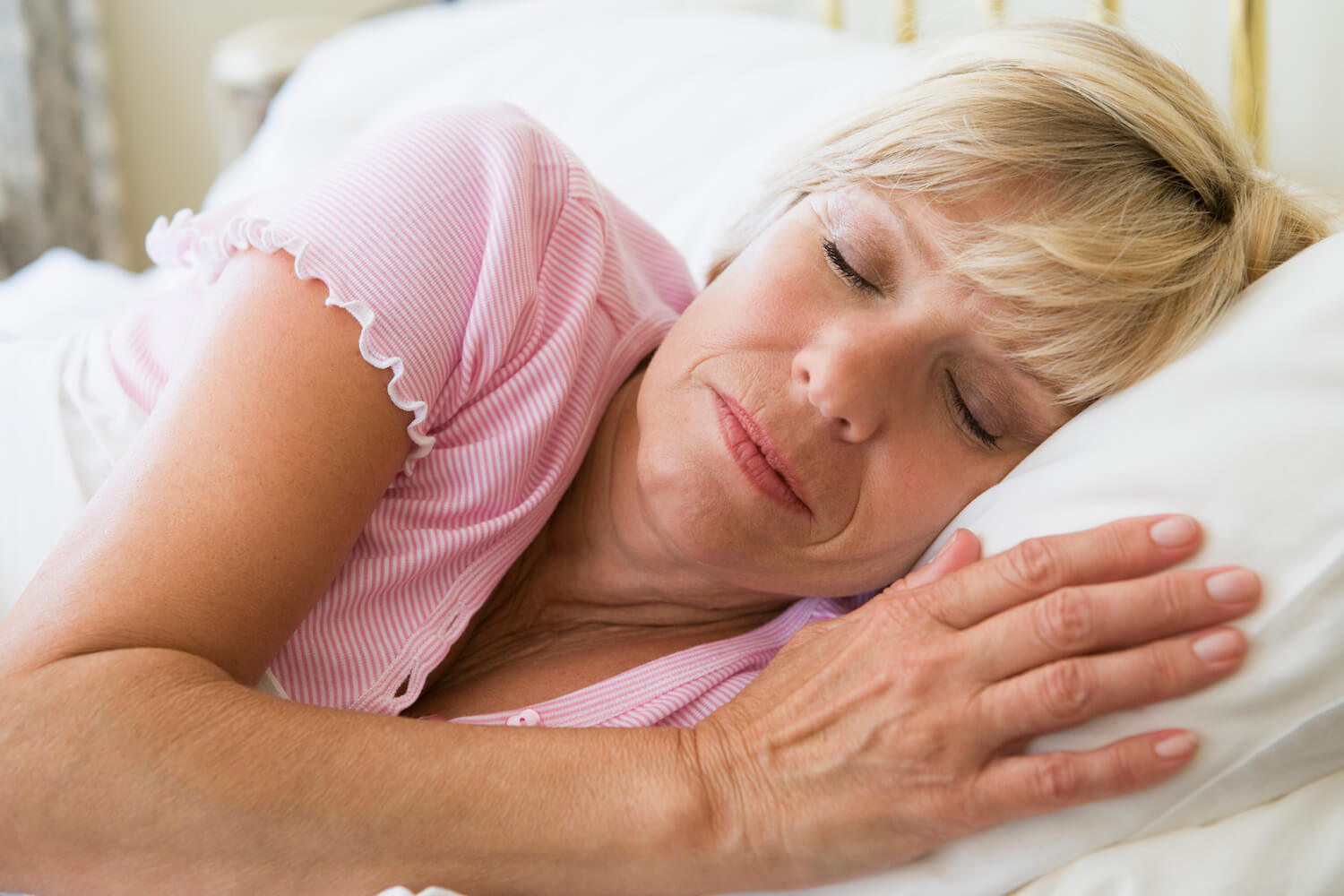 Case Study –  Better Sleep
One of our customers, Jolene, was taking CBD to help her sleep at night. She started off taking a full dropper of the Rena's Organic 1500 mg. Organic CBD Tincture – which amounted to about 50 mg. CBD, and slept like a baby.
However, when she switched to taking a dropper (20 mg) of 600 mg. CBD under her tongue, one hour before sleep—rather than the higher potency CBD—she was much more energized in the morning.  In Jolene's case, she found that the lower dosage was her definite "sweet spot" when it came to improving her sleep.
Why Take CBD?
The first question to answer is what is it you want to treat?  Are you taking CBD to increase your overall wellness?
Many people who have become enlightened about the benefits of CBD on the body's innate Endo-Cannabinoid System choose to take CBD for overall health and wellness.
CBD is often used as a preventative because it is so similar to the chemicals the body naturally creates, when the body is in optimal health.
It's for this reason that Cannabinoids (the plant compounds found in CBD) often are integrated and utilized within the body more efficiently and with greater efficacy than synthetic pharmaceuticals.
Bradley E. Alger, Ph.D. and Harvard graduate, a leading researcher of the Endo-Cannabinoid System states, "With complex actions in our bodily systems, and virtually all of the body's organs, the Endo-cannabinoids are literally a bridge between body and mind. By understanding this system, we begin to see a mechanism that could connect brain activity and states of physical health and disease."
The reason CBD can help in so many areas of health is because cannabinoids and their receptor cells are found throughout the nervous system, in the brain, immune cells, in many organs as well as in the connective tissue, skin and glands.
The reason the list of health concerns CBD can assist with is so long is because the Endo-Cannabinoid receptors can be found throughout almost all bodily systems.   This is why CBD can be used as preventative therapy to help protect the body from aging and stress.
Finding Your Perfect Dose
So how do you know where to start?
The best course of action for many users is to start out with even just 2-3 mg.  That may just be a drop or two of the higher potency 1500 tincture or ¼ teaspoon of CBD Super Cider.
Then, based on how you feel, in terms of relief from symptoms and experiencing no negative reactions, you can increase your dose accordingly.
Listen to your body. I recommend that you build up slowly.  It's not a race . . .
It will be worth it, because if you're like so many other Rena's Organic users, once you find your perfect dose, the changes in the way you feel can be remarkable.
Here's a great starting point:
The following dosage recommendations are based on a body weight of 110-200 pounds. If you weigh more or less than that, please adjust accordingly.
If you weigh between 110 and 200 pounds, most people find that a good starter dose is 10-16 mg. Medical Grade CBD.
This is typically a good amount to take, when introducing Cannabidiol (CBD) into your system, during the first few days.  If you are very sensitive, you may want to even start out with less. As mentioned earlier, if you're very sensitive, then even just a few milligrams is a wonderful place to start.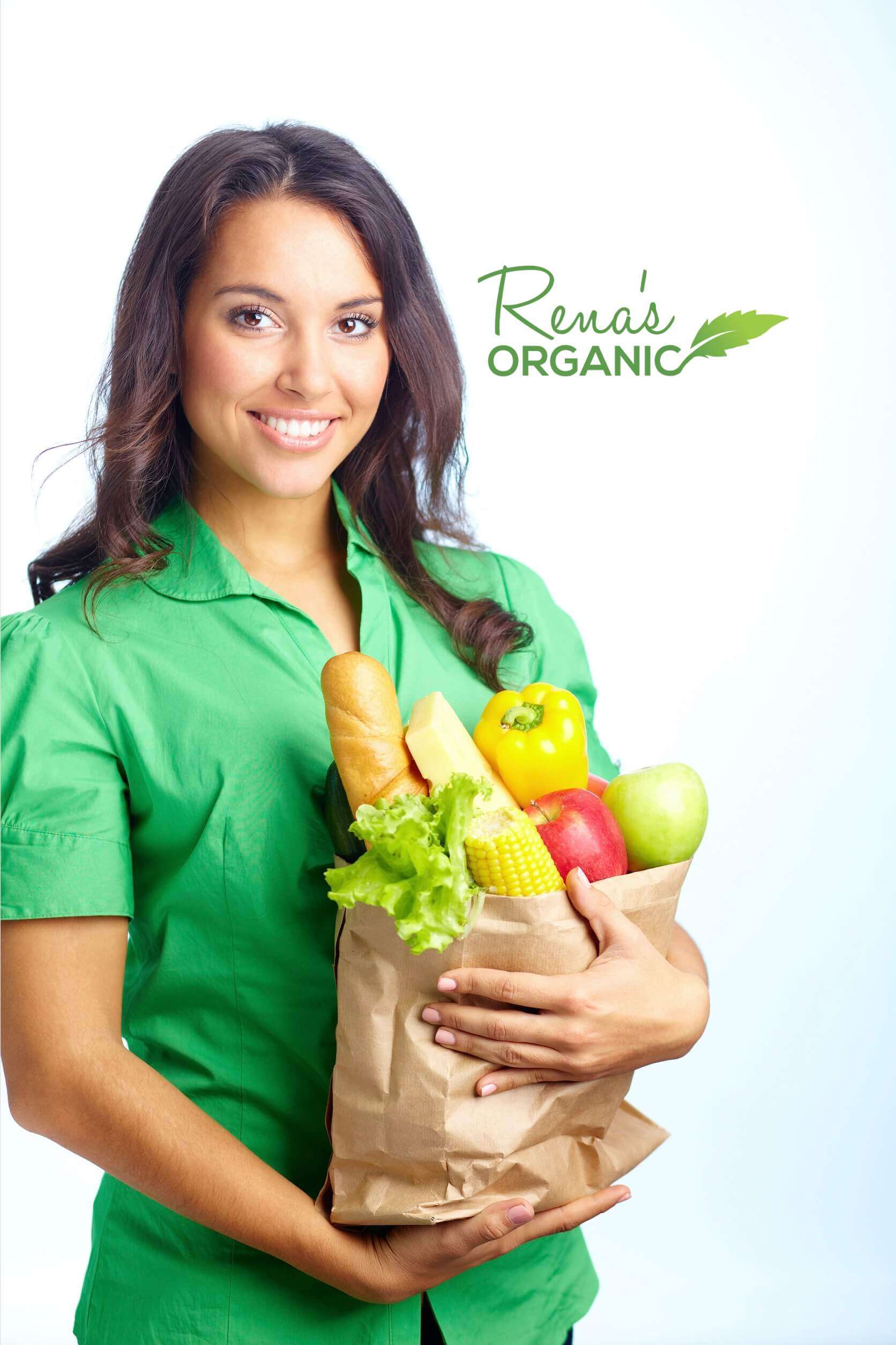 Here's how that translates to actual CBD products:
If you were taking the 300 mg. Organic CBD tincture, one dropper-full is 10 mg. CBD, best taken under your tongue.
If you were taking the 600 mg. Organic CBD Tincture, one dropper-full is 20 mg. CBD, best taken under your tongue.
1500 mg. Organic CBD Tincture, one dropper-full is 50 mg. CBD, best taken under your tongue..
If you were taking CBD Super Cider, you may start with 1-2 teaspoons, which contains about 8.5 mg. full spectrum CBD in each teaspoon.
CBD Super Food contains almost 8.5 mg. water soluble CBD per scooper.
Adjusting Your Dose for Optimal Results
If you feel good with your initial dose, but still would like more relief, you can increase your dose incrementally, going up to 25 mg. CBD per day or more. Most people land at anywhere between 12-50 mg. daily.
That would be about one tablespoon CBD Super Cider daily or 30 drops of the 1500 mg. Organic CBD Tincture (sublingually, which means under the tongue).
When Your Body is Out of Whack
If you are feeling discomfort, best results may be obtained from a higher dose, starting at 50-150 mg. Organic CBD, or 1-3 full droppers of 1500 mg CBD, taken throughout the day.
When the discomfort is localized to a certain part of your body, best results are achieved when taking CBD orally is augmented with applying 1000 mg. CBD pain relief cream, which has the added benefit of menthol, topically, on the affected area.
Case Study
Lauren suffered from debilitating fatigue for years. She constantly felt out of whack and often felt so tired she could barely get through her days. She immediately experienced relief when she took CBD Super Cider.
Lauren started with the recommended dose of one tablespoon.  However, she soon discovered that she felt much better when she split that up throughout the day.
For Lauren, one teaspoon of CBD Super Cider (8.5 mg CBD) in the morning, one more in the afternoon and another in the evening, was all she needed to bring about a huge change in her life. Just the 3 teaspoons of CBD Super Cider (25 mg. CBD) per day was enough to make her feel really good and energized enough to create a much more active lifestyle.
It's important to realize that Lauren is a very petite woman.  Many other Rena's Organic CBD users report that though one tablespoon of CBD Super Cider gives them the energy they need earlier in the day, augmenting with 600 mg. or 1500 mg. CBD in the evening—sometimes up to 50 mg.—really helps their slumber.
Also, keep in mind that CBD builds in your system. For conditions like elevated eye pressure like I have, regular intake of 20-40 mg. daily is recommended.
Determining Your Best Dose
The important thing is when you bring your dose up or down, stay at the same dosage for at least a few days so you can notice how your body is responding.  With every substance, dosage is such an individual thing.  Sometimes less is more. However, often people need to take more CBD to experience the benefits they are seeking and a noticeable change in the way they feel.
If you are wanting greater relief from symptoms or if you're not noticing any real change, and you tolerate your current dosage well, then you may want to increase your dosage.
The great news is that there is no known toxicity with CBD.  Some scientists believe that's because, in humans, there are no Cannabinoid receptor cells in the brain stem, which controls breathing and heart rate.
The key with CBD, as with all other substances including food, is to listen to your body and adjust accordingly.
What is Rena's Organic?
Rena's Organic CBD Super Cider and our 300 mg, 600 mg, and 1500 mg tinctures contain the finest quality Full Spectrum, Colorado grown, Organic CBD on the market, rich in the plant's naturally occurring Cannabinoids, Terpenes and potent Cannabidiol.
CBD Super Food is a potent energy boosting and health-promoting formula made with 23 organic super foods and 250 mg. water soluble CBD.  Our customers love the delicious taste and how easily this tasty, nutritious powder mixes into water, for a quick, healthy energy boost during the day.
Check out our special discounts on every CBD product in our store.
We want you to be completely happy with your CBD experience, every step of the way.
That's why we've got you covered with our complete 30-day money back guarantee (less shipping). If for any reason, you're not 100% happy with the products, they're free.
Please reach out to us with any questions.  It's my pleasure to support you in your quest for optimal health and wellness.
To Your Health & Happiness,
Rena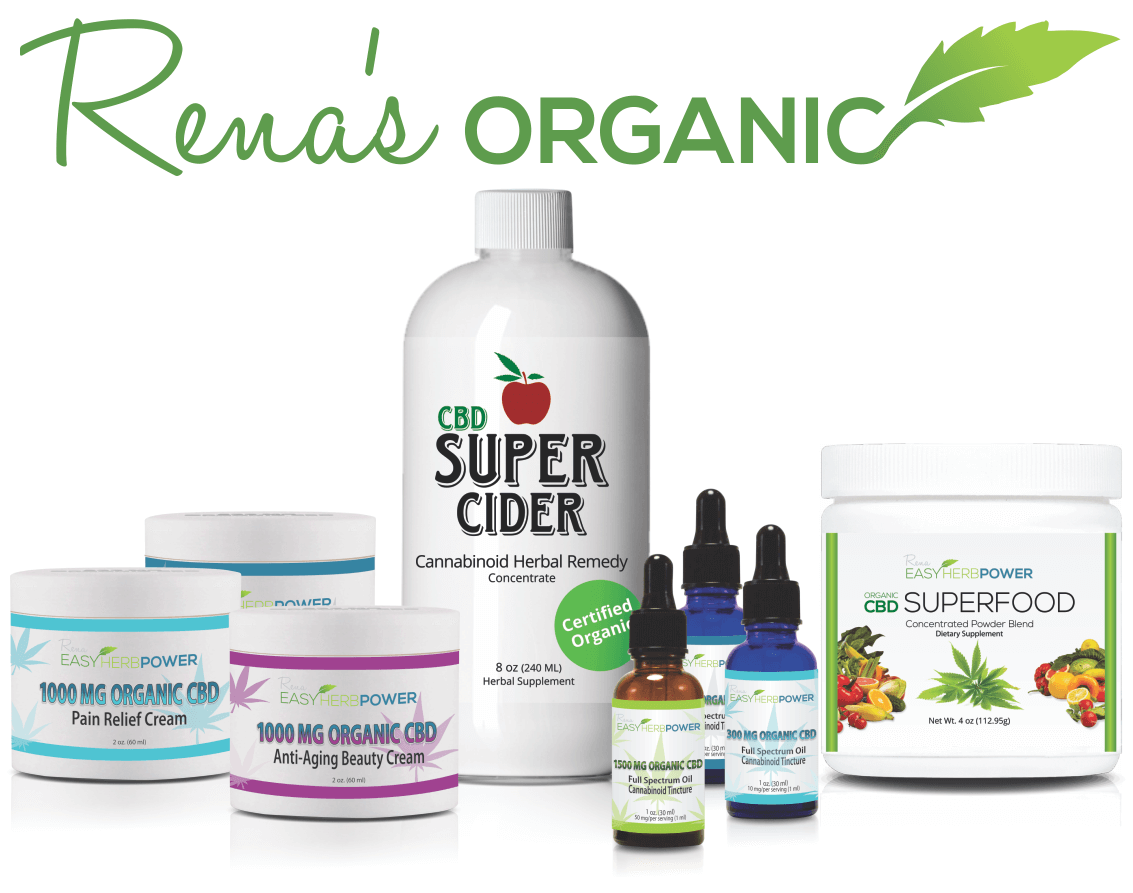 Click to see Entire Rena's Organic Product Collection
Applying and Using CBD Cream 
CBD users can now pick from a variety of products including capsules, vapes, and CBD cream. In fact, CBD cream 1000 mg is growing in popularity as it has a host of antioxidant properties that are helpful in fighting the visible signs of aging. In addition to beauty products, there are several other CBD products marketed towards athletes such as a CBD pain cream. Below is information for how to correctly apply a CBD cream 1000 mg and find the required dose. 
Finding the Right Dosage of CBD Cream
When consuming CBD orally, users may be concerned about how much of the product they are ingesting. However, topical CBD is more localized and specific, so the specific dosage is not so worrisome. When using CBD creams, you can use the same amounts that you would with any other type of lotion or cream. To avoid wasting product, focus on applying CBD cream 1000 mg to common problem areas such as elbows, knees, and other joints. You can also apply the CBD cream 1000 mg to the feet, face, as well as neck and shoulder areas. When using CBD pain relief cream, dosing may be more precise. Many products will tell users how much CBD is contained in each pump so that you can measure out an accurate dose. It may be helpful to apply a small amount to an area and wait for 1 hour to see if you can feel the effects. If you don't experience any relief, you can apply more. Even the most effective CBD creams will require that you reapply every 3-4 hours. Always make sure that you wash your hands and the area that you are applying the CBD cream to. 
Rena's Organics carries only the highest quality CBD cream 1000mg on the market that can help moisturize the skin and promote healing. Rena's Organics CBD creams quickly absorb into the skin to reduce inflammation and improve skin health.