CBD 1000 MG. Pain Relief Cream
Product Description
Rena's Organic CBD 1000 MG. Pain R1000 mg pain relief creamelief Cream with menthol is a fast acting topical lotion that has been known to relieve some of the most persistent aches and pains.
That's not a "zero" typo. So many products out there boasting CBD content and extolling the virtues of CBD, have ONLY a ridiculously low 100 MG CBD in the product!
I've seen plenty of "CBD" ointments that are supposed to stop pain. How discouraging, when you read the fine print, only to discover that there may be as little as 50 MG. of the active ingredient in the whole jar!
I want you to be free of addictive pills that keep you chained, and to live without the draining, agonizing discomfort that can wreck your life.
That's why I went to great lengths to find the most potent and reliable CBD possible for a pain relief cream and combined it with menthol. No cutting corners. No gimmicks. No hype.
Just pure 1000 MG. CBD. That's TEN TIMES the amount of potent CBD found in most other topical lotions.
How can I do this? I'm counting on people telling other people about the amazing relief they experience with this state of the art salve. Once you try this pain-relieving formula, you are sure to be sold for life.
I've seen the Rena's Organic® 1000 MG Pain Relief Cream with menthol work wonders to relieve stiffness, tingling including the burning nerve pain associated with arthritis, joint, nerve, muscle and back pain.
Rena's Organic CBD 1000 MG. Pain Cream is being proven to be a powerful and effective pain relieving solution.  Plant based and natural, our high quality CBD pain relieving cream has an incredible, unheard of 1000 MG. of pure, authentic, Organic CBD plus the active ingredient of menthol.
This fast acting, potent formula provides soothing relief from all kinds of pain, including muscle spasms, sore knees, sore feet, painful hips, tight muscles, numbness, tingling, excruciating back pain, and any other pain.
No ordinary ointment or salve, CBD 1000 MG. Pain Cream, absorbs deeply to bring blessed relief.  Doctor recommended.
What is in 1000 MG. CBD Pain Relief Cream?
This advanced formula is composed of all natural and organic ingredients. Featuring our potent, organic, full spectrum, 1000 MG. pure, USA grown, CBD with the active ingredient of menthol.
Our high potency pain relieving cream contains 1000 MG. of the amazing plant compound, CBD plus menthol, plus a plethora of healing essential oils, to bring you relief from even the most persistent muscle or nerve discomfort. The ingredients are specially formulated to bring you long lasting and fast acting relief.

How long will it be before I get results?
We're thrilled that so many people tell us that they experience relief immediately after applying 1000 MG. CBD Pain Cream. Some people need to keep applying the Cream for a few days before noticing the change.  Other users notice that they're having more energy to play golf, tennis or work around the house, just a short time after applying Rena's Organic Pain Relief Cream.  Most often the relief lasts for hours.
The most dramatic results have been reported by people who rub Rena's Organic 1000 mg CBD Pain Relief Cream with menthol regularly on troublesome areas such as the neck, shoulders, back, wrists or knees.
Do you bill my credit card automatically?
No, we definitely do not. This is a one-time charge. When you're ready to order more pain relieving cream, please just come back to our website or call customer service and we'll be happy to place your order for you, at 800-848-2822.
How many bottles do you recommend that I order?
Most people take advantage of the two-jar offer. Our customers tell us that they are so impressed with the results, they end up wanting to share this miracle pain relief cream with friends and family, which is why we offer even greater discounts with the 3 jar option.
What if it doesn't work for me?
We work really hard to insure that all our Rena's Organic products are of the highest quality and integrity.  I want you to be able to run, dance, play, walk, socialize and do all the things you want to do, pain-free.
Rena's Organic 1000 MG CBD Pain Relief Cream with menthol has been formulated to be one of the best pain relieving products on the market, and I feel very proud of that.
I do know, having provided corporate wellness programs for over 30 years, that there is no one product that works for everyone. If for any reason, the 1000 MG. CBD Pain Relief Cream doesn't take away your pain as you had hoped, please return it for a full money back refund.
You have absolutely no risk. If within 30 days you are not ecstatic about your results, please call our USA based friendly customer service team, for your full 100% refund (less shipping).
This is by far the most effective solution for even your worst aches and pains. Consulting with top-notch researchers, we formulated Rena's Organic® 1000 MG. CBD Pain Cream, with menthol, as the highest potency pain relief CBD formula on the market.
Compare to other CBD pain creams out there that either don't tell you the CBD potency or may have potency's as low as 50-200 MG! The quality and value of Rena's Organic® is incomparable. More and more people are turning to extra strength, premium quality CBD 1000 MG. Pain Relief Cream with menthol for fast-acting, potent, long-lasting natural pain relief from:
Backaches
Joint pain
Shoulder pain
Foot and leg pain
Nerve pain
Knee pain
Neck aches
Hip pain
And just about every other muscle or nerve pain! Our customers report that CBD 1000 MG. Pain Relief Cream with menthol assists with stiffness, tingling and burning nerve pain.
Because ordinary solutions aren't enough to combat stubborn, debilitating pain.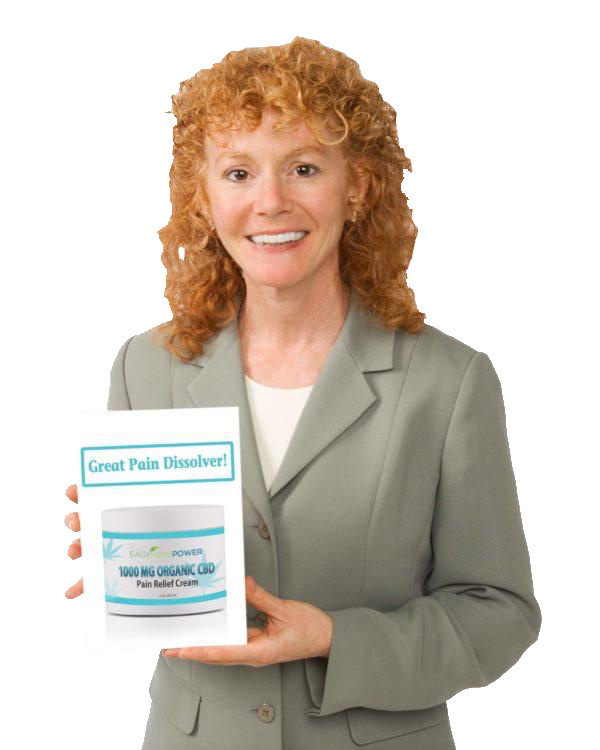 Comprised only of organic and natural nutrients, the most unique ingredient in this Rena's Organic® Formula, is our full spectrum, pure, 1000 MG CBD, along with the active ingredient of menthol. That's right!
1000 Milligrams of this amazing plant compound is blended into the lotion along with menthol, to relieve even the most stubborn nerve or muscle pain.
This topical formula is designed to give you fast acting, potent long-lasting pain relief.
Rena's Organic® Pain Relief Cream is light and non-greasy, easy to apply, with a refreshing, light smell. You simply rub a small amount on to the inflamed or painful areas on your body. Within minutes most people report blessed relief that lasts for hours.
We recommend you use the pain cream with CBD Super Cider, CBD Super Food Energy Blend or one of our CBD Tinctures. This way, by taking CBD orally, you'll get relief from the inside-out.
CBD 1000 MG. Pain Relief Cream, gently applied to your skin, can absorb deep into your pores to help eliminate sharp, achy, dull or numbing discomfort.
Essentially, taking the Rena's Organic® CBD and using the 1000 MG Pain Relief Cream together, you are protecting yourself from the devastating effect of discomfort from the inside-out and the outside-in.
This way you get the remarkable benefit of a double-action approach!
All our CBD is USA grown, overseen from seed to sale, in the clean air State of Colorado. At Rena's Organic®, we use only full spectrum Organic CBD with all the polyphenols, Cannabinoids and terpenes, intact. Every batch is 3rd party tested and analyzed, according to rigorous standards, for purity, potency and efficacy.
Menthol
Menthol is a powerful, organic compound, known as a counter-irritant. It works by causing your skin to feel alternatingly cool and then warm.
By bringing cool, soothing relief to aching or throbbing muscles, menthol has a natural, analgesic effect. This produces a numbing reaction, thus alleviating stubborn nerve and muscle pain. Additionally it acts as a vasodilator, increasing blood flow to the affected area. This allows the CBD and other ingredients to work faster, while the increase in blood flow brings necessary nutrients for cellular repair.
Aloe Vera
Scientific studies have confirmed that Aloe Vera helps to soothe aching muscles when applied topically after a workout. It's also been shown that Aloe Vera contains components that repair damaged tissue and stimulate healing.
Coconut Oil
Known to reduce discomfort and swelling and as a beneficial aid for soreness.
Cannabidiol
Also known as CBD, Cannabidiol is being called the greatest discovery of our time. Athletes, celebrities and people from all walks of life are reporting miraculous relief when using the right dose of high quality, potent CBD.
Our CBD is extracted from genetically proprietary USA grown plants, cultivated and harvested utilizing only cutting edge organic farming methods, to produce the highest potency CBD possible.
Vitamin E
Studies have confirmed that Vitamin E is a powerful aid for healing.
Meet Rena Greenberg
Rena Greenberg, Celebrity Health & Wellness Speaker and Coach, has been helping people lose weight and get healthy for 30 years. Since 1990, her wellness programs have been reviewed and sponsored in 75 hospitals and 100+ corporations across America, including Disney and AT&T.
She is the best selling author of the Hay House book, The Right Weigh and The Craving Cure. Her success has been featured in over 150 TV and newspaper stories including on CNN, Good Morning America, ABC-TV Nightline, The Doctors Show, FOX News, NBC TV, Woman's World Magazine and her own show on PBS.
Rena has been featured on:

★★★★★

based on

10

reviews.
Overall rating:
this cream is amazing!
★★★★★
"
I have ckd and i have suffered from chronic illness pain for years. This cream js amazing and has helped me so much. It smells awesome anr the smell isnt over powering. I would definitely recommend this!
"
★★★★★
"
It really is incredible. I quit smoking with Rena years ago and completely trust her products. This pain relief cream is amazing – 5 stars, minimum!
"
★★★★★
"
I'm a school teacher and I'm on my feet all day. When I would come home at the end of the day, I was so tired and achy, I couldn't do anything. I started taking CBD Super Cider and also rubbing this CBD pain cream on my legs when I got home. I cannot believe the difference! Now, it's like I have two days rolled into one. After work, I am socializing again or getting stuff done around the house. I can't thank you enough for these great products. Finally something that works.
"
-
Francine O, Durham, North Carolina
★★★★★
"
I am 75 years old. Since I started using 1000 MG CBD pain cream, I have never felt younger. This is too good to be true. My husband can't believe the change. I'm finally going dancing again!
"
-
Roberta F, Bridgewater, New Jersey
★★★★☆
"
The pain in my legs had gotten so bad that when I went golfing I had to ride the entire course in a golf cart. I could barely walk. I figured I had nothing to lose when I heard about CBD pain cream. First I tried one from my doctor's office but it didn't do much. Then, on a whim, I decided to try the Rena's Organic® lotion because I was impressed with the high CBD potency. It's only been one month, and my buddies can't believe it. I'm walking from hole to hole, no problem. And I've dropped 5 pounds. I can't recommend this stuff enough. I'm definitely going to be ordering again.
"
-
Steve Heller, Fort Lauderdale, Florida
★★★★★
"
This product is an unbelievable value. I am so grateful to find something that finally works. My knees have bothered me for years. I rub a little on the front and back of my knees, in the morning and again in the afternoon and I have no pain at all. It's a miracle.
"
★★★★★
"
My daughter is a college student and spends long hours at the computer. I couldn't stand to see her practically hunched over because of the tight muscles in her shoulders and neck. Even massage didn't seem to make a difference. I started rubbing the CBD 1000 mg. lotion on her upper back and neck. It's amazing—she is now standing upright again and says the pain is gone. She loves it and I do, too.
"
-
Emily J, Rochester, New York
★★★★★
"
All I can say is Wow – I'm off the pain medicine! This has been a godsend for me and my wife. I take the 600 MG tincture, plus the CBD Super Cider and I've been rubbing the pain cream on my hips and lower back. I feel like I've been reborn. I'm sleeping like a baby. It's great to be active again!
"
-
Rob M, Portland, Oregon
★★★★★
"
I had tried everything for the fibromyalgia I have. This is the only thing that worked. I've been using the 1000 mg cream with the cbd super cider. The results have exceeded my expectations. I can honestly say I have no more pain. Thank you.
"
-
Teresa W, Boston, Massachusetts
★★★★★
"
This is the only thing that has worked to get rid of my back pain.
"
-
Lucy Hamilton, Hampton, VA
Helping Others
All Hands All Hearts: Smart Response

Rena's Organic donates a portion from every sale to All Hands All Hearts. All Hands All Hearts provides quick response and long-term aid to victims of natural disasters, such as floods, hurricanes, fires, tornadoes and earthquakes. A+ Rated by Charity Watch. 96% of our donations go straight to those in need.
★★★★★

based on

10

reviews.
Overall rating: