''Tis the season to be jolly!' then why are so many people stressed and unhappy during the holidays. With December just around the corner, Christmas and New Year's will be upon us soon. After months of quarantine and mandatory social distancing measures in place, most people in the United States are looking forward to the holiday season. However, it is also a time when many people report feeling more stressed than they do in the entire year.
According to the American Psychological Association, 61% of Americans reported feeling stressed around the holidays, and 68% reported feeling fatigued. Most of the stress experienced by people is due to financial concerns and the commercial aspects of the holiday. Lack of sleep caused by stress during the holiday season can also lead to various mental and physical health problems.
Fortunately, CBD products can help combat some of the holiday stress and help you enjoy the holidays. Here are some of the common stress-busting benefits of CBD:
Improve Sleep Quality
Many people experience sleep issues around the holiday due to fatigue and the daily stress of getting things done on time. While CBD is not a sedative in a technical sense, but it does help balance and supports the body's endocannabinoid system resulting in better sleep and improved overall functioning of the body. CBD can help you relax before you go to bed and is a gentler and more natural alternative to prescription sleeping pills, which can be strong and have various adverse effects on your health.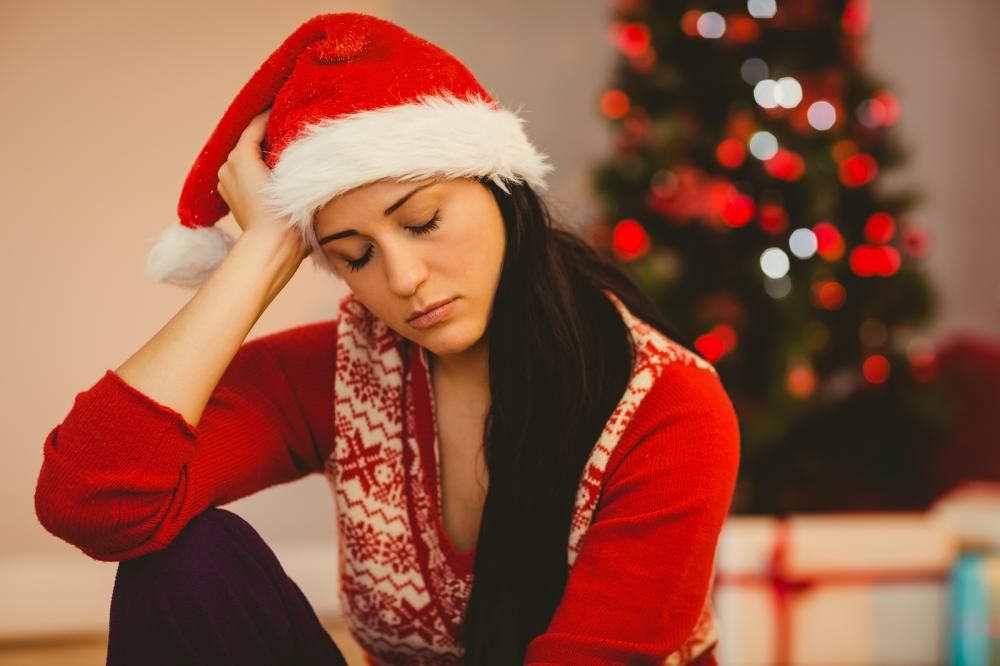 Reduced Anxiety and Depression
Too much holiday stress and anxiety over holiday shopping and other aspects of the season can sometimes cause depression and mood swings. People often experience fits of anger and frustration while shopping for presents for their loved ones or preparing for Christmas parties at their homes. Studies show that cannabidiol has anxiolytic-like and anti-depressant-like effects, which can help reduce anxiety and depression in many people. While more research is required to prove the therapeutic effects of CBD, there are several studies that suggest that CBD can help alleviate some symptoms of depression and make the condition easier to manage.
Pain Relief
Most people deal with pain and fatigue while trying to enjoy the festivities due to their hectic schedules around the holidays. However, taking opioids and other prescription painkillers is neither a safe nor a long-term solution to managing pain because of the risk of addiction and various side-effects. Thankfully, the analgesic effects of CBD provide a safer alternative to opioids. Studies show that CBD interacts with the pain receptors in the brain and immune system and helps reduce inflammation, and alleviates pain to a certain extent.
Excellent CBD Products to Try This Holiday Season
Rena's Organic offers a diverse range of quality CBD products that can help you manage stress this holiday season. We have everything from CBD anti-aging creams, CBD Slender Cider, CBD oil tinctures to CBD dietary supplements, CBD pain relief creams, and CBD Superfoods.
Browse through our CBD products and order today.
Applying and Using CBD Cream 
CBD users can now pick from a variety of products including capsules, vapes, and CBD cream. In fact, CBD cream 1000 mg is growing in popularity as it has a host of antioxidant properties that are helpful in fighting the visible signs of aging. In addition to beauty products, there are several other CBD products marketed towards athletes such as a CBD pain cream. Below is information for how to correctly apply a CBD cream 1000 mg and find the required dose. 
Finding the Right Dosage of CBD Cream – When consuming CBD orally, users may be concerned about how much of the product they are ingesting. However, topical CBD is more localized and specific, so the specific dosage is not so worrisome. When using CBD creams, you can use the same amounts that you would with any other type of lotion or cream. To avoid wasting product, focus on applying CBD cream 1000 mg to common problem areas such as elbows, knees, and other joints. You can also apply the CBD cream 1000 mg to the feet, face, as well as neck and shoulder areas. When using CBD pain relief cream, dosing may be more precise. Many products will tell users how much CBD is contained in each pump so that you can measure out an accurate dose. It may be helpful to apply a small amount to an area and wait for 1 hour to see if you can feel the effects. If you don't experience any relief, you can apply more. Even the most effective CBD creams will require that you reapply every 3-4 hours. Always make sure that you wash your hands and the area that you are applying the CBD cream to. 
Rena's Organics carries only the highest quality CBD cream 1000mg on the market that can help moisturize the skin and promote healing. Rena's Organics CBD creams quickly absorb into the skin to reduce inflammation and improve skin health.